Ethiopia attracts over $100 million investment in mining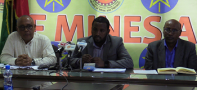 The Ministry of Mines and Energy said it has attracted over 3 billion birr ($106.4 million) investment in the mining sector of the country over the past one year period ended July 7, 2019.

Out of the total investment 1.1 billion birr (about $38 million) is invested in exploration and production of gold, marble, iron and precious stones, according to the statement of the Ministry of Mines and Petroleum of Ethiopia (MMPE). The remaining close to 2 billion birr (around $67.6 million) investment is directed towards eleven petroleum exploration and production sharing and natural gas exploration, according to Mathewos Abate, from Plan and Program Directorate at MMPE, who briefed reporters this afternoon.



It is also indicated that the Ministry recently has signed agreement with the Chinese company POLY-GCL Petroleum Group for the installation of pipeline to Djibouti. When completed the pipeline will enable the country to export of the 6.3 trillion cubic feet of natural gas reserve found in Ogaden area of Somali region in the Eastern part of Ethiopia.
In relation to foreign currency earnings from export of different minerals Ethiopia has secured a total of close to $49 million though the country's plan was to secure over $600 million. Currently some 179,000 people are engaged in the mining sector including those artisan miners and those recruited in companies.
It is recalled that seven years ago, gold was the second foreign currency generator for Ethiopia next to coffee with export earnings of $654 million. One of the major contributors for the poor performance of Ethiopia's mining sector during the last few years was insecurity and communal conflicts, according to the report of the Ministry.