A company named, Al Hilal Gold Mining, is set to inaugurate Ethiopia's first modern gold detector device assembly in the capital Addis Ababa.

The assembly will be inaugurated on Monday August 5, 2019, according to the information from the Ethiopian Ministry of Mines and Petroleum. It is indicated that the company aims to supply its products to artisan gold miners in Ethiopia and also eyes to export to the neighboring East African countries.



The modern gold detector devices are expected to ease the lives of artisan gold miners and boost the declining export revenue of Ethiopia from gold. The Ministry of Mines and Petroleum of Ethiopia indicated that it has been working hard to overcome the bottle necks in the process of gold mining and increase the income of the country from the mineral. One of these initiatives is to provide artisan gold miners affordable modern gold detector devices, according to the statement.
The new gold assembly plant will be inaugurated and commence operation on Monday morning in the presence both regional and federal government officials.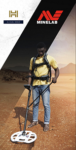 During the last fiscal year of Ethiopia concluded in July 7, 2019, artisan miners of the country has produced 582.84 kilograms of gold and generated around $20.6 million export revenue, which is $11.6 million down compared to the previous fiscal year, according to the annual report of the Ministry of Mines and Petroleum NewBusinessEthiopia.com received. Meanwhile the target of the government was to earn close to $689.7 from artisan gold miners.
Likewise, the ministry has also not been able to meet its target of generating $304 million dollars from companies engaged in gold mining. It has only secured $8.66 million from 270.3 kilograms of gold exported, which is $66 million down from the previous year earning.
Political instability in some parts of the country and contraband trade are mentioned in the report as among the reasons for the poor production gold and decline of export earnings.