Walia urges Ethiopian government to solve forex shortage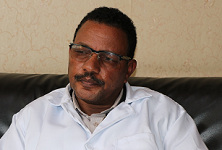 Walia Steel Industry Private Limited Company, one of the fastest growing manufacturing industry in Ethiopia, urged the Government of Ethiopia to address the foreign currency shortage and allow the company to be able to use its full manufacturing potential.

General Manager of Walia, Badege Kebede told NewBusinessEthiopia.com that the company couldn't be able to import inputs because of the shortage of foreign currency in the country. As a result, the revenue the Walia has been generating for the government in terms of tax has been declining.



"The annual revenue of the company, which reached around 1 billion birr four years ago (around $28 million at current exchange rate), has now declined to around 600 million birr (about $16.9 million). When our revenue declines, the tax income the government gets from our operations will also decline and we couldn't be able to use all our staff," he said, urging the government to give priority for the manufacturing industries to access hard currency for importing raw materials.
"The kind of manufacturing industries we are engaged in has been saving huge amount of hard currency the country spends on finished products in addition to creating jobs as well as transferring skills and technology," he said, indicating that Walia using one of its sister companies is now engaged in export of coffee to secure hard currency that will allow it to import raw materials for manufacturing steel products such as, sheet metals, LTZ profile in various shapes and lengths.
alia Steel, which is owned by Sisay Investment Group, has started its operation in 2006 employing some 50 workers and with annual production capacity of some 100,000 metric tons of steel. Expanding its operation today the company has increased its manufacturing capacity to one million metric tons of steel.
Sisay Investment Group is owned by a visionary and entrepreneurial-minded individual – Sisay Tesfaye (Mr.) whose back ground is business administration, and began his investment journey by establishing a small plastic manufacturing company about two decades ago.



Focusing on the construction sector, currently Sisay Investment Group has invested in over half a dozen companies ranging from real estate, construction, paint manufacturing to mineral water bottling. The company has currently created jobs for over a 1,000 employees, according to Mr. Badege, who also coordinates activities of the group companies.
"We will continue to re-invest and create more jobs. The problem we are now having is shortage of hard currency to import some of the inputs for our manufacturing industries," he said.