Industrial parks in Ethiopia create 64,000 jobs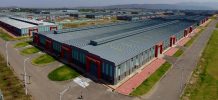 Introduced over the past few years, the nine operational industrial parks in Ethiopia have created a total of 64,000 jobs.

The jobs are created by companies, which are operating in the five government built industrial parks and four private industrial parks, according to the information New Business Ethiopia received from Ethiopian Investment Commission.



The five industrial parks built by the government are Hawassa, Kombolcha, Bole Lemi, Mekele and Adama industrial parks. Collectively the fivae state owned industrial parks have currently created jobs to 45,000 Ethiopians.
While the four private industrial parks are Eastern, Huajan, Velocity and George Shoe, in which some companies are already producing products while expansion work of the parks is simultaneously underway.
Most of the owners of the companies operating in the parks are foreign, according to the statistics obtained from Ethiopian Investment Commission.
The government of Ethiopia plans to create jobs for hundreds of thousands of people when the existing parks and seven additional state owned under- construction industrial parks go fully operational.
The additional seven state owned under-construction are Dire dawa, Debre Birhan, Arerti, Kilinto, Jimma, Bahir Dar and Ayisha industrial parks.
In recent years unemployment has been a serious concern for the government of Ethiopia, which among others forced the regime to embark on the current reform.
The country launched construction of state owned industrial parks a few years ago after securing loan from Eurobond.
Industrial parks are factory sheds equipped with the necessary facilities including, one stop shop services to investors such as, electricity, water, customs, immigration and the like.
In a related development companies in the recently built Kombolach Industrial Park (KIP) has gone operational and began exporting their products. "Three foreign companies have already started exporting their products," says Mekonnen Hailu, Public Relations Director at Ethiopian Investment Commission.
He stated that in the past six months the three foreign companies have created jobs for a total of 1,500 youth. Reports show that employees in Ethiopia's industrial parks are being paid less than a dollar a day, which is resulting in high level of employees turnover.
The companies that gone operation in KIP includes, South Korean Pungkook, which known for its Mikle Kourse (MK) brand of ladies leather bags. The other two companies are Carvico Ethiopia of Italy, which produces sport wears from synthetic, and Saytex Spinning of China, which converts cotton into thread.
From their test production the three companies have exports products worth $1.67 million, according to Mr. Mekonnen. He further stated that a company from the United States, Trybus, has also completed installing machines and is set to start producing suits.
In addition another South Korean company, Syang, has also concluded agreement to start production of textiles in KIP, which is built in Amhara region's Kombolacha city. Built on 75 hectares of land, KIP has 13 industrial sheds. Dedicated to apparel products, when fully operational it is expected to create jobs for 20,000 people.
Mr. Mekonen says currently most of the companies in industrial parks are providing transport and meal allowance for the employees in addition to their basic salaries. Some people have been suggesting the need for Ethiopia to set a minimum salary to protect factory employees from labor exploitation.
Reports show that women represent the majority of the employees working in the labor intensive industrial parks such as those producing textiles and leather products.