How two former Ethiopian civil servants create 70 jobs
Founded by two dedicated entrepreneurs who decided to leave their jobs as civil servants 18 years ago, Amio Engineering PLC, has now created 70 permanent jobs after going through so many ups and downs.

One of the founders of the company and General Manager of Amio Engineering PLC, Ibrahim Yassin told NewBusinessEthiopia.com that out of the five friends only two managed to navigate through the hardships bring the company where it is today. Amio has been producing molds for different parts of machines and has been manufacturing agricultural equipment, including pedal water pumps.



"We started very small only having our practical skills and securing some orders from a few factories who know our professional skills. Initially we were renting other companies' machines to produce the spare parts. Today we are able to create jobs for around 70 permanent employees. we have been manufacturing molds for plastic products manufacturing industries, spare parts of different industry and agriculture machines," says Mr. Ibrahim.
Ibrahim and his friends were working at the government agency Metal Industry Development Institute, where they were working as Mechanical Engineers.
"The challenges we went through were not that easy. We were tempted to quit many times. In fact, three of our friends who started with us couldn't resist and gave up. But I and Mr. Muzemil Mohammed have decided to navigate through the hardship. With the help of God, we have reached where we are today after 18 years," Ibrahim says.
He indicated that over the past years Amio Engineering has also been exporting its products to other African countries and sharing professional skills as well.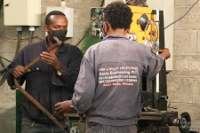 "We have been exporting our agricultural machines such as, pedal water pumps to South Sudan and Zimbabwe. Our experts have also traveled to these countries and provided training for months on how to use our machines and do maintenance, among others," he said, indicating that Amio Engineering is currently locally producing some parts of tractors.
Import statistics shows that Ethiopia spends hundreds of millions of dollars every year for importing machine parts. Often when the country's hard currency dries, manufacturing industries are forced to halt their operations until they import spare parts for their machines.