Ethiopia launches national program to improve investment climate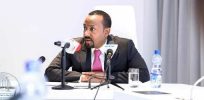 Focusing on job creation, the Government of Ethiopia has launched a national program that will enable it to improve the business and investment climate of the country.

The national program has 80 activities that will be implemented by 10 implementing agencies. Prime Minister Abiy has attended the launching of the program on Tuesday.



Ethiopia is ranked 159 among 190 economies in the ease of doing business, according to the latest World Bank annual ratings. The rank of Ethiopia improved to 159 in 2018 from 161 in 2017.
Speaking to the new committee gathered from ten government institutions, Prime Minister Abiy said that the country needs to work hard to improve the raking at least to become among the top 100 countries in the coming two years.
The national program will be monitored by the Prime Minister with the follow-up of the policy implementation and supervision office of the Prime Minister. The overall activities will be coordinated by the Ethiopian Investment Agency.
The program, which is part of the national job creation program, aims to improve the global competitiveness of Ethiopia on how to start and grow business, according to the information from the Office of the Prime Minister.
At the launching of the program, it is indicated that the government will play key role in removing the bottlenecks that hinders the private sector from creating jobs.
In Ethiopia, the unemployment rate stands at 24%. Reports show that Ethiopia's rural youth are becoming landless and lacking job opportunities, which often leads to an increased migration to urban areas.
In Addis Ababa, over 20% of households have an unemployed adult and in other urban centres the rate is around 10%. Furthermore, low incomes, unemployment, underemployment and poor working conditions are highest amongst young people (15-29).
According to the International Labour Organization's (ILO) 2016 World Employment and Social Outlook, in 2015 the youth unemployment rate was 10.9% in Sub-Saharan Africa, with the working poverty rate among youth standing at 70%. In Northern Africa in 2015 the unemployment rate was 29.3%, with one in four working youth estimated to be living in extreme or moderate poverty.
The 2018 ILO report on Sub Saharan shows:
The unemployment rate is expected to reach 7.2%, essentially remaining unchanged.
The number of unemployed should increase by 1 million due to the region's high levels of labour force growth.
More than one in three workers is living in conditions of extreme poverty, while almost three out of four workers are in vulnerable employment.