Authority revokes 82 business licenses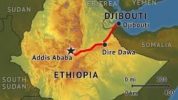 The Revenue and Customs Authority of Ethiopia over the past months revoked trade licenses of 82 businesses for not starting to use the sales registering machine on the time table set by the authority.

Well-known business firms in the country such as East Africa Group, Garad Plc and Ethiopia Midows (Karuturi) – Indian company engaged in flower farm, are among the companies whose license is revoked as indicated on the Authority's official website. Importers, owners of supermarkets, groceries, pastries, guest house, hotels and restaurants are also included in the list.
Following the increase use of sales registering machines by the business community at large, Ethiopia's five month revenue has increased by 47 percent as compared to last year same period. This is believed to speed up the country's journey to meet the Millennium Development Goals (MDGs) by halving poverty by 2015.



The information obtained from the Authority shows that from July to November 2009, the country fetched 14.77 billion birr (around 1.1 billion USD) from both direct and indirect taxes, of which 2.47 billion birr is collected in November.
Out of the total income, 6.64 billion birr is collected from customs duties and taxes, while 5.3 billion birr and 2.97 billion birr of the total is obtained from direct and indirect taxes respectively. Sales of lotteries also earned 16.3 million birr over the five months.
In addition to the introduction of sales registering machines, the implementation of 15 percent Value Added Tax (VAT) to most businesses including coffee shops has also contributed to tax revenue increase. Out of the 14.77 billion birr collected 33 percent was secured from VAT.
During Ethiopia's budget year ended June 30, 2009, the Authority collected a total of 19.5 billion birr targeting 25 billion birr. At the end of the current Ethiopian fiscal year – June 30, 2010, the Authority plans to collect total revenue of 34 billion birr both from direct and indirect taxes.
Introducing new system, the Authority is currently collecting fingerprints of all tax payers in the country. Between 2003 and 2004 more than 433,000 tax payers in the country used the Taxpayers Identification Number (TIN) as administered by the Authority.
Over the past years, Ethiopia has been increasing spending to various MDG-related sectors. Agriculture and food security, water and sanitation, education, health and HIV/AIDS, road construction and development of power sectors, particularly implementation of the rural electrification program are among the major areas, which have been getting tax payers' money, external loans and borrowings. Meanwhile, compared to other countries, Ethiopia still has weaker tax compliance rate.
The average tax revenue/GDP ratio for Ethiopia is 11 percent. Meanwhile, for sub-Saharan Africa, middle income countries and high income economies, the ration is 16 percent, 25 percent and 40 percent, respectively.