Ethiopia reports additional COVID-19 death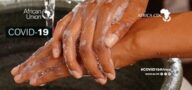 The Ministry of Health of Ethiopia today reported one additional death by COVID-19 (coronavirus).

This has increased the total number of death from the pandemic to four. It is stated that the 75 woman died before her test result confirmed that she was infected by the coronavirus.



In a related development, the Ministry has said it has found five new COVID-19 patients during the last 24 hours after laboratory test of 1047 people suspected of acquiring the virus. Out of the total 145 confirmed coronavirus cases in Ethiopia, 79 have recovered. out of the five new coronavirus infected people two are residents of the capital, Addis Ababa.
In Africa over 47,000 people are infected by the global pandemic, while 15,587 of them recovered and 1,843 have died so far, according to Africa Center for Disease Control (CDC) data. Globally the pandemic has claimed lives of over 252,000 people so far infecting over 3.6 million people of which about 1,1 million have recovered.