Ethiopia COVID-19 May 30 update – Cases up to 1,063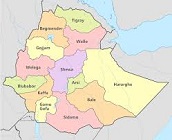 The total number of coronavirus (COVID-19) cases in Ethiopia has increased to 1063 after 95 new patients infected by the global pandemic are found in the last 24 hours.

The 95 new cases are found after the Ministry of Health of Ethiopia conducted laboratory tests for 5,034 people. of the 95 new patients, 56 are from the capital, Addis Ababa, 22 from Oromia, five from Amhara, three from Harari, three from Tigray, three from Somali, two from Dire Dawa and one from Afar regions. So far 106,615 people have received laboratory test for coronavirus in Ethiopia.



On Friday, Ethiopia reported 137, the largest daily coronavirus cases so far. The total number of people recovered from COVID-19 in Ethiopia so far has also increased to 208, according to the statement of the Ministry, which indicated that 11 people have recovered in the last 24 hours. Five patients are also in critical condition getting medical treatment in internal care unit (ICU).
Including one person reported yesterday, so far eight people have died in Ethiopia from the virus. Two Japanese have returned back home to their country, while the remaining 845 patients are getting treatment.