Ethiopia cut electricity supply following water shortage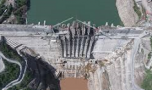 Following water shortage within the hydrometric dams, the government of Ethiopia is forced to cut electric power supply for five hours every day across the nation for the coming two months.

For the coming two months the electric power supply authority is forced to cut power for five hours in a day in some places across nation. The five hours power cut is divided in to three categories – morning, afternoon and evening. One area at a time will not have power for five hours, either in the morning, in the afternoon or in the evening, according to the officials of the Ministry of Water, Irrigation and Energy of Ethiopia.



The 426 megawatts national power deficit on average is caused because the Gibe III Hydroelectric Dam couldn't get enough water to generate power at its full capacity. The country currently needs 2,500 megawatts of electricity and the deficit ranges between 400 to 1,000 megawatts, according to the officials, who briefed reporters on Friday afternoon. The officials stated that some critical areas such as, hospitals, export-oriented industries are considered specially to get power always.
Over the past few several days many places in Addis Ababa have been experiencing power blackouts. The officials also indicated that the growing demand of electricity in the country has also contributed to the shortage of power in Ethiopia.
Some companies like, Dangote Cement Factory require up to 47 megawatts of electricity, according to Eng. Sileshi Bekele, Minister of Water, Irrigation and Energy, who indicated that the export of power o Djibouti will be reduced and to the Sudan will be interrupted as a result of the current shortage.
Koka, Melka Wakena and Gibe III hydropower dams are not getting enough water, which led to the current power shortage according to the minister. He stated that the water level of Gibe III hydropower Dam, which used to cover 43 percent of the total power demand in Ethiopia is currently 15 meters below what it used to be last year same period.