Towards Singapore of Bab el Mandeb

BY ANDUALEM SISAY GESSESSE – Following the recent restoration of ties between Ethiopia and Eritrea, many speculated that Djibouti's economy would suffer. This is because the tiny East African country's economy has been benefiting hugely after Ethiopia stopped using Asab Port in Eritrea two decades ago.

Meanwhile Djiboutian officials seem to have a different view. By specializing on service sectors, Djibouti aims to become East Africa's Singapore and sees the peace accord between Ethiopia and Eritrea as an opportunity for economic growth for the whole region.



"If peace prevails in this region, it is good for business and good for integration. Peace is what everybody needs. Ethiopia's economy is growing and it may even need ten ports in Djibouti in the future," says Youssouf Moussa Dawaleh, President of Djibouti Chamber of Commerce.
The nation's leaders believe that the income Djibouti gets by providing port services to Ethiopia is likely to increase. In addition, Djibouti also plans to serve other landlocked countries in the region such as Rwanda, Burundi and South Sudan via Ethiopia.
Whats more, Djibouti's investment also includes diversification of the economy targeting service sector. This includes introduction of zero tax on profit structure like that of Dubai as well as launching of a national airline and a new national shipping company, among others.
In the last ten years Djibouti has built five specialized ports while two more are in the pipeline. The country is convinced that Ethiopia's economy will continue to expand requiring more efficient and competitive port services.
Using the Port of Assab and the Port of Massawa in Eritrea can be advantageous for companies located in the northern part of Ethiopia.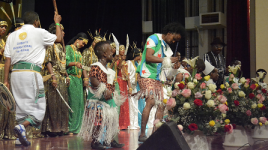 Meanwhile it is likely to require huge investment by the Eritrean government and take at least a few years to build highly competitive, efficient and modern port services to be able to compete against the specialized container terminal in Djibouti. The fact that these terminals are linked with the capital, Addis Ababa by railway is also an added advantage for Djibouti.
"Ethiopia's market is enough for all the neighbors, which have the potential to provide port services," says Melaku Kinfegebriel, Business Consultant at the Addis Ababa based Noble Consulting.
"Eritrea's port development can't be a threat to Djibouti's Port, ports of Berbera in Somalia or Kenya's Mombasa Port. All can have more than enough market share from Ethiopia's 100 million plus population depending on each's proximity to different parts of the country and efficiency of their services," he says.
Even though Assab is closer to Addis Ababa when compared to Djibouti Port, thanks to the railway, currently a container can reach Addis Ababa in just 12 hours.
"Within ten years Djibouti has built five new ports and a railway connection with Ethiopia. It is really a huge investment for a small country like Djibouti. This is a game changer for Djibouti ad also the region," says Wahib Daher Aden, CEO of Doraleh Multipurpose Port, the biggest port in East Africa.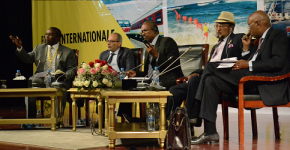 Beyond the port services relationship and the railway link, Djibouti and Ethiopia are already linked by road, electricity and water supply. The fact that the people of Djibouti, who are dominantly Somalis and Afar communities, are also found in Ethiopia, has tied the two neighbors even closer.
In addition, Ethiopia is using the submarine internet cable coming through Djibouti. In 2016 the two countries also agreed to treat each others investors as local investors. Capitalizing on these ties, the two countries have recently decided to offer tour packages combining the unique tourist attractions of each country.
The port service income earned from Ethiopia is not the only money Djibouti has been investing on huge infrastructure projects. Like its big neighbor, Djibouti has also been getting loans mainly China, which has made the country among the top highly indebted countries.
"Nobody gives you money if they are not sure that you can pay them back," explains Mr. Wahib.
Its strategic location has also helped Djibouti to attract global powers who have set up military bases and related facilities.
A tourism strategy being formulated is also expected to help the country diversify its economy. "As part of promoting the tourist destinations of Ethiopia and Djibouti as one, we are preparing three packages with tour operators in Ethiopia," says Osman Abdi Mohamed, CEO of the National Tourism Office of Djibouti.
The two sides are offering drafted three, four and ten day packages, which feature Ethiopia's UNESCO registered sites and Djibouti's beaches and water sports, among others. "This is also part of the larger regional integration of African countries," he said. He believes that such an approach will boost the current low 3% contribution of tourism to GDP.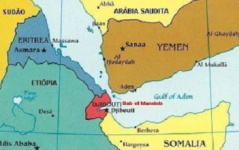 Liberalized financial sector
One of the more vibrant aspects of Djibouti's economy is the financial sector. Currently there are close to a dozen foreign banks operating in the country. Unlike Ethiopia, Djibouti's financial sector is open for everyone and anyone.
Among the foreign banks operating in Djibouti are, CAC Bank, Amana Bank, Salaam Bank, the Commercial Bank of Ethiopia (CBE), although CBE is yet to see a profit in about 20 months since reopening its doors for customers.
Encouraged by easy access to foreign currency and 0% profit tax, many Ethiopian businesses – mainly engaged in transit activity have already set up shop in the free zones. In addition, banks in Djibouti are also financing Ethiopian investors engaged in other businesses, such as, hospitality.
Recently CAC Bank has assisted Ethiopia's well-known brand Kuriftu Lodges to enter the Djibouti market by facilitating the opening of an upscale beachfront restaurant last November.
"We are very grateful for the management team at CAC Bank for believing in us and assisting us to develop this property in Djibouti," comments Tadiwos Getachew Belete, the dynamic Ethiopian entrepreneur who launched the Kuriftu brand two decades ago.
"Efficient service is what all business people require. Today if you place one billion US dollars in Djibouti and wanted to take back $500 million tomorrow, you are free to do that. This means Djibouti is very attractive to businesses," says Mr. Youssouf of Djibouti Chamber.



"Djibouti offers many business opportunities not only for Ethiopians but also for all global citizens. Tourism, fishing and real estate are among the areas we advise our clients to invest in," says Fouad Abdillahi Barreh, General Manager of Global Chamber Djibouti.
His office has been assisting foreign companies and individuals to set up business in Djibouti.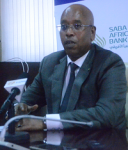 "We are interested in helping Ethiopian companies to establish themselves in any area of business, including transportation, which is a big business in Djibouti. Every day we have 750 trucks leave Djibouti for Ethiopia. In the past, we have helped two Chinese companies to start transport services. They brought trucks from China and now they truck equipment from China to Ethiopia," he says. Currently the two Chinese investors run 20 trucks on the go from Djibouti to Ethiopia line.
"If we continue to provide such services, we will need to have even better infrastructure than we have now. Our aim is to be like Singapore, which is a small island considered as one of the Asian Tiger Economy. We want to emulate them here in the Strait of Bab el Mandab," concludes Youssouf.