Reuters News agency spreads fake news on Ethiopia
By Andualem Sisay Gessesse – Reuters News Agency, one of the major global news wire has reported fake news on Ethiopia putting in quotation mark false twit by President Yoweri Museveni of Uganda.

On November 16 in its headline, Uganda leader meets Ethiopian official, urges talks, Reuters has falsely inserted the following twit, which was not twitted by President Museveni. "A war in Ethiopia would give the entire continent a bad image. There should be negotiations and the conflict stopped, lest it leads to unnecessary loss of lives and cripples the economy," tweeted Museveni after unconfirmed media reports that Uganda may play a mediation role.



The news of Reuters has followed the visit of Ethiopian Deputy Prime Minister and Foreign Minister Demeke Mekonnen whose delegation met with Ugandan President Yoweri Museveni. The fake news is reported by Nairobi newsroom; Writing by Andrew Cawthorne; Editing by Duncan Miriri and Toby Chopra.
Below are the ONLY actual THREE twits by President Yoweri Museveni after he met the Ethiopian delegation.
Before setting out for my campaign meeting this morning, I held discussions with the Ethiopian Deputy Prime Minister, H.E. Demeke Mekonnen Hassen and his delegation at Gulu State Lodge. pic.twitter.com/q4LmCZX9Ep

— Yoweri K Museveni (@KagutaMuseveni) November 16, 2020
Our discussion focused on the peace and security issues affecting Ethiopia currently. Being one of the oldest countries that was not colonised in Africa, Ethiopia is the pride of the continent. pic.twitter.com/PYHnykTCeT

— Yoweri K Museveni (@KagutaMuseveni) November 16, 2020
Africa's problem is that we never discuss ideology, focusing so much on diplomacy. I totally disagree with politics that focus on ethnic federalism. We must emphasise the issue of oneness and common interests because it is the only way we can prosper. pic.twitter.com/TDLAGyxgbK

— Yoweri K Museveni (@KagutaMuseveni) November 16, 2020
Some of the international media journalists based in Ethiopia have been misleading the world by producing unprofessional, judgmental one-sided and fake stories in relation to the ongoing fight between the national defense force of the federal government of Ethiopia and the armed group of TPLF, which officially admitted attacking the northern command of Ethiopian army about three weeks ago.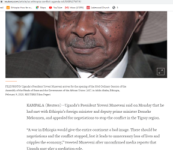 TPLF makes a shameless admission to have undertaken a surprise and lightning strike on the Northern Command of Ethiopian National Defence Forces. If there were any iota of doubt left on the malicious attack perpetrated by TPLF on our National Defence Forces, here's a confession. pic.twitter.com/5RaMVZ1BPv

— Ethiopia State of Emergency Fact Check (@SOEFactCheck) November 14, 2020