Ethiopian Customs captures criminals engaged in illegal trade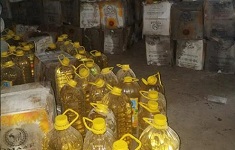 Over the last six days Customs Commission of Ethiopia has captured criminals with contraband goods worth 27.5 million birr ($about 795,000).

The Commission on its official social media page indicated that the contraband items seized include cooking oil, vehicles, electronics, narcotic drugs, and clothes among others. The people engaged in illegal trade are also seized while trying to smuggle the goods into the country without paying taxes and going through related the legal processes.



The goods are captured in different customs check points found across the country, according to the report, which encourages whistleblowers to continue supporting the Commission's fight against illegal trade. Reports of the Commission show that it has been capturing contraband goods worth a million dollar every week for the past several months.