$456 million asphalt roads to connect Ethiopia with neighbors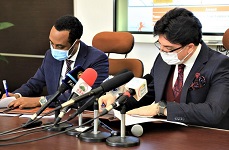 The Government of Ethiopia has awarded several asphalt road projects worth close to $456 million that connect the east African country with neighboring countries specifically Sudan, Kenya, Eritrea and Somalia.

Ethiopian Roads Authority today awarded eight asphalt road construction projects worth 18 billion Birr ($455.7 million based on today's exchange rate). The total length of the eight new road projects is 738 kilometers and connects Ethiopia with Somalia, Sudan, Kenya and Eritrea.
Endasilassie-Rama-Senay that links Ethiopia with Eritrea. Durbete-Qunzilla-Gellago-Metema road will be connecting Ethiopia with Sudan. Negeleborena-Dollo Ado-Melkasuftu will be linking Ethiopia with Kenya and Somalia.



Of the total cost seven of the projects is covered by the government of Ethiopia. While the remaining will be covered by grants and loans from Japan International Cooperation Agency (JICA), African Development Bank, World Bank and some contribution from Ethiopian Government. Out of the eight road construction projects, five of them are awarded to local construction companies, according to the information from Ethiopian Roads Authority, which inked the agreement with the companies on Tuesday.
It is stated that during the six months of the current budget year of Ethiopia, which begins on July 8, 2020, the Ethiopian Roads Authority has awarded 21 road construction projects with total length of 1,774 kilometers and investment of 43.3 billion Birr (close to $1.1 billion based on today's exchange rate).