Performance of Ethiopia's livestock, meat, leather industry
BY ANDUALEM SISAY GESSESSE – Ethiopia is known as the top African country for having huge amount of livestock. From a 53 million cattle, over 25 million sheep, over 24 million goats and camels, Ethiopia has a huge potential for production of meat, skins and hides products.

Compared to what has been done to improve the performance of the sector in terms of creating jobs and export earnings, a lot remain to be done. At the moment only 50 percent of hides and skins potential are being utilized.



Five years ago as indicated in its second growth and transformation plan, Ethiopia aimed to generate $800 million in 2020 from export of leather products. Meanwhile,the export performance of leather products over the last five years shows far from the target though it has managed to increase its export earnings from $23 million in 2013 to $133 million in 2018.
On the other hand African countries with less cattle population have managed to earn more hard currency from export of leather products.
In 2014, South Africa was the leading African exporter of raw hides and skins and leather products earning close to $352 million, followed by Nigeria, which earned close to $287 million. In 2014, Ethiopia was the fifth largest exporting country and its export value was close to $90 million after Egypt and Kenya, which exported leather products worth close to $195.4 million and about $136.4 million, respectively.
In terms of job creation, the number of employees in both the tanning and dressing of leather and footwear manufacturing industries increased significantly from about 950,000 people in 2000 to 1.9 million in 2013, according to a paper by Wegayehu Bogale Fitawek and Mmatlou Kalaba, presented at the 5th International Conference of the African Association of Agricultural Economists, September 23-26, 2016, Addis Ababa, Ethiopia.
Uncertainty
At times because of the unpredictability of regulations by the government, the performance of the sector has been fluctuating and full of uncertainty.
For instance over the past few years, many tanneries have gone out of business because of the government's huge tax on import of chemicals and export of raw skins and hides, among others. This has led to the wastage of tons of skins and hides and decline of hard currency from export of the leather industry
A skin of a sheep, which used to be sold from 70 to 100 birr at some point, went down to less than 20 birr. This is because those who were collecting the skins and selling them to tanneries have lost interest in the business after the tanneries seize their operations or forced to produce way below their production capacity.
To reverse this a few months ago, the government has lifted tax on export of semi-processed leather. Meanwhile local leather products manufacturing companies fear that the decision will lead to shortage of leather in domestic market and make them out of business.
Some leather products argued that it is not right for the the policy makers to take tax rate from 100 percent down to zero automatically.
They say there has to be a middle ground and a balance, where local leather products manufacturing companies engaged in producing shoes, leather jackets, bags and the like creating tens of thousands of jobs will continue their business.
Lost jobs, earnings from value addition
When it comes to the meat processing factories, instead of exporting meat, many of them are preferring the easiest live animal export. This has been denying the country hundreds of jobs if not thousands and slashing hard currency earnings of Ethiopia that could have been generated from value addition.
For example, in 2011/12 fiscal year of Ethiopia, which started in July 8, 2011, Ethiopia has earned over $207 million from export of live animals. Same period the country has earned only close to $80 million from meat export.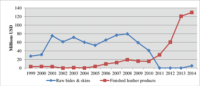 The fact that there is huge demand for meat from Ethiopia in the neighboring Middle east countries and Ethiopian Airlines is in better condition to handle huge amount of cargo is a missed opportunity for Ethiopia to benefit fully from its livestock potential.
Meanwhile the last few years performance of the sector shows that the earning from live animal export has been declining while the value added meat export is licking up.
In 2018/19 fiscal year, Ethiopia has exported close to 93 million meat, while the earnings from live meat export has gradually declined to $42 million.
This suggests that maintaining the trend and expanding on the success stories by attracting more investment in meat processing is likely to double or even triple the export earnings of Ethiopia in a few years period.
Even those engaged in meat processing businesses in Ethiopia these days are shifting from export to domestic market, which pays more for a kilogram of meat.



Of course these meat processing companies have managed to create jobs as they expand their domestic business and generate tax revenue for the government though the country is not getting the hard currency the sector supposed to generate.
Over ten million pastoralists living along the borders of Ethiopia have also find it easy to sell their live animals across the border.
The poorly regulated and often contraband trade of live animals by these pastrolalists has been leading to the loss of millions of hard currency the country could have got.
This is in addition to thousands of lost jobs and additional millions of dollars Ethiopia could have got if these live animals processed and exported as meat or other dairy products.
The reason the pastoralists are engaged in less regulated cross border live animal trade is mainly because they don't have access to organized market places near them or meat processing factories, which can offer them competitive prices for their most valued asset – their livestock.
The current approach of fighting contraband cattle trade is not a lasting solution. We can't expect a pastoralist living five or ten milometers around the border to bring their cattle to the central markets travelling hundreds of kilometres to the central markets Adama or Negelle Borena.
Opportunity to boost performance
I think this is where proper policy intervention and action that include encouraging meat, dairy processing companies and animal feed producing farmers cooperatives to set up their businesses near the pastoralists areas.
This has to follow government investment in basic infrastructures such as, water and electricity, and security, which are vital for investment.
Supporting the pastoralists and millions of farmers engaged in fattening of cattle and dairy products with better agriculture technologies can also enable Ethiopia to boost the performance of the sector, create more jobs, revenue to the government as well as improving the living conditions of these communities.
Making arrangements by the Ethiopian Government to utilize other ports found near these borders such as, Barbara port of Somalia, Kenya's Mombasa Port, Eritrea's Port of Assab, among others, is critical to better benefit the country from its huge livestock potential and make impact on the lives of the pastioralists.