Addis Ababa Airport triples its capacity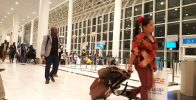 Following the expansion, the Addis Ababa Bole International Airport of Ethiopia has tripled its customer handling capacity to 22 million passengers per year.

The expansion includes additional 86,000 square meters of floor area of space for terminal 2, around 16,000 square meters for terminal 1 and around 6000 square meters for the new VIP terminal.



China Communication Construction Company (CCCC) is in charge of the expansion project with a loan of $225 million for Terminal 2 and $138 million for Terminal 1 expansion and New VIP Terminal from China Exim Bank.
Ethiopia is expected to be inaugurated the multi million dollars expansion project is the coming days.
With the main civil engineering work now completed, the new terminal is gearing up to open its doors by the end of January 2019. Addis will soon have an airport with state-of-the-art amenities and upgraded capacity, matching its stature as the major entry point into Africa.
As Ethiopian Airlines' main hub, the airport has seen a steady increase in passenger volume over the years due to Addis Ababa's unique location in the middle of East-West major trade lane.
Addis Ababa's increasing significance in the diplomatic realm as the third diplomatic city in the world, and conference tourism, has been contributing to the increase of the traffic.
Last year, Bole International Airport has already beaten Dubai as the main gateway linking more Africa passengers traveling to the rest of the world.
The airport is expanded with a view to relieve the congestion and enhance passengers' ground-to-air experiences. Though the existing airport terminal was initially designed to accommodate 6 million passengers annually, currently it is serving over 10 million passengers every year. Once operational, the new terminal will have a capacity to cater to 22 million passengers annually, in addition to upgraded runways and navigations systems.
With its new duty-free shops, restaurants, auto-walks, escalators, panoramic lifts and many other accommodations, the new facility will take travelers' experience to a whole new level.
Ethiopian Airlines stated that it will have a new check-in hall with an elevated motorway, more international gates as well as check-in and immigration counters.
With a view to automate and facilitate the check-in process, the terminal will also feature hi-tech airport systems such as automated bag drop solutions, e-gates, self-check-in kiosks, and baggage handling and tilting tray sorter systems.
The ultra-modern facility will improve safety and optimize efficiency with its integrated systems and solutions that add flexibility and control to the operations.
Ethiopian Airlines Group indicated that the airport facility is developed not only to accommodate the current traffic growth at the airport, but in due consideration of the growth indicators of the continent including traffic growth forecast and the rising middle class.