How formalizing informal exporters supports Ethiopian economy
WEEKEND READING = By Andualem Sisay Gessesse – Yifter Kebede (39) has been working in shoes factories for many years. Most of the small and medium factories he has been working in are located in the Merkato area in the capital of Ethiopia, Addis Ababa. As a result managed to develop multiple skills in the production of leather products and the growth potential of the leather industry.

He and his colleague have set up a new leather bags manufacturing company about three years ago. Unlike many companies engaged in the leather products manufacturing, the company Yifter and his colleagues established, Agge Sifan and Friends Leather Products Company, has embarked quickly in exporting their leather bags to the United States of America.



The company trains semi-skilled and often unskilled employees to later join the factory. Established by five friends, it has now 13 staff. "Initially we began producing leather bags for domestic market. Since October 2019 we have been fully engaged in export," Yifter says. Branded, Bille, the company's leather bags have managed to quickly spread the U.S. market with support from an Ethiopian relative living in Minnesota.
"The person helping us named Dr. Cherinet is not directly engaged in the business. He is a full time medical doctor but wanted to create jobs for us and access Minnesota market and beyond," he says, looking at a $4,000 leather bags ready for export.
The products include different colors of travel leather bags, women leather bags and laptop leather bags, among others. The companies importing the leather bags in Minnesota sell the products online, which Yifter says is an opportunity for Ethiopian in the diaspora to consider such business as an additional income opportunity.
Official reports show that the demand for quality leather products including bags is very huge and growing fast. The increase of Ethiopia's leather products exports since the early 2010s has been driven by foreign direct investment in the manufacturing of leather gloves. Meanwhile the country's leather goods export earnings excluding shoes is still staggering around 10 million dollars per year.
The major challenge many established companies raise is lack of knowledge and skilled professionals that help them to access the global market often dominated by few conglomerates and brands.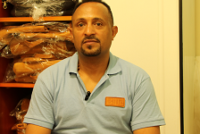 Fikir Negash is the founder and General Manager of Fikir Leather and Garment Industry, a private company engaged in production of leather jackets, leather bags and other products. It is established 16 years ago with 60 employees. Though the company initially set up to be engaged in export market, it wasn't able to do so.
"We expect a lot from the government to help us join the export market. It can help us to participate in international trade fairs, provide us trainings and financial support," he says.
In 2017, the majority of exported leather products from Ethiopia (excluding footwear) were gloves (79% of leather product exports, excluding footwear), bags (11%) and cases (8%), according to March 2019 research paper, 'The Ethiopian Leather and Leather Products Sector: An Assessment of Export Potentials to Europe and Austria,' by Jan Grumiller and Werner Raza.
Other products such as jackets, belts and wallets are currently of lesser importance. The US is the largest importer of Ethiopian leather products (66% by value in 2017), followed by the EU (24%, in particular Germany, Italy and the UK), China (6%) and Japan (2%).
Yifter and his friend's company uses the highest quality leather known as, ''pull-up leather. But the quality leather the company uses to produce the bags for export market is not always available in the market and very expensive as the country also allows the about two dozens of active tanneries to export finished leather.
Expensive cargo
As the volume of export is not hug, Agge Sifan and Friends is currently using Ethiopian Airlines cargo services to export their products. Meanwhile the cargo price is not encouraging for small companies planning to legally engage in export of leather products or other Ethiopian products, according to Mr. Yifter.
"I believe one of the major reasons why most small Ethiopian leather, traditional clothes and other artifacts are engaged in informal export of their products is because airplane cargo price is very expensive for them," Yifter says.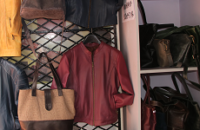 From homemade Ethiopian spices and food items highly needed by millions of Ethiopians in the diaspora, to traditional clothes and artifacts, tons of goods are being informally exported from Ethiopia. Exporters of these goods use travelers to carry with them small amounts of kilograms of these products without paying transportation fee for the items.
"When we formally export, our product importers pay us using the formal banking system. That enables the country to secure the scarce hard currency. If Ethiopian Airlines cut its cargo prices for thousands of small companies producing export items like us, you can imagine how much hard currency Ethiopia generates," he suggests, urging Ethiopian Airlines to reduce its $5.10 per kilogram rate for formally engaged in export small businesses in Ethiopia.
"It would be good if the government offices engaged in supporting the sector can discuss with Ethiopian Airlines and reduce the cost for us. This will encourage thousands of small companies like ours to come into the formal business and establish sustainable business and create thousands of jobs. Ethiopian Airlines can gradually increase the rate when we move to the next ladder from small business to at least medium level," Yifter advices.



Using duty-free export opportunities
Reports show that though many countries including the United States, Europe and China have offered many African countries to export their products duty free, most of the African countries have not been able to utilize the opportunity by brining aboard their small businesses to benefit from such opportunities.
Like many African countries, many people in Ethiopia are engaged in the informal economy and businesses. When it comes to export and import business, it is monopolized by few dozens of companies and individuals, which have strong financial capacity and network within the system.
Many experts doubt that with business as usual it is very difficult for small manufacturing businesses of Ethiopia like Agge Sifan and Friends, to succeed in formally export competing with the informal exporters and the big emerging companies mainly owned by foreign investors.
"With the current practice let alone establishing sustainable business using the U.S. and American duty free opportunity, I doubt if these small businesses in Ethiopia can benefit from the upcoming African Free Trade Area without a holistic and comprehensive support from the Government," says Melaku Kinfegabriel, Managing Partner at Premier Consults, a private company engaged in investment advisory.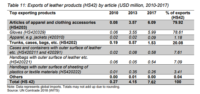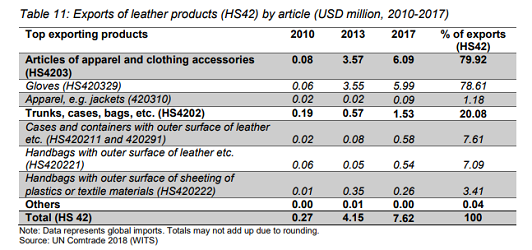 "Since at the moment Ethiopian Airlines is fully owned by the government of Ethiopia, the policy makers can come-up with a special package that can bring the informal small package goods exporters to be engaged in the formal export. This is not only for the sake of saving the jobs of these small manufacturing businesses, but also for the sake of boosting Ethiopia's export earnings," he says.
"When it comes to the implementation of AfCFTA, I think all African governments should think of providing special support and incentive package to such small businesses. That will make these small businesses to formally engage in import and export businesses and make their business sustainable. Otherwise the AfCFTA is no different from the current policies of many African countries, which is making the few rich companies become richer and richer," Mr. Melaku says.
"The government should take the lead to help small scale manufacturers to be organized and form sector specific industry. This can be done by helping them to be certified with technical support and by providing common facility that can reduce cost of doing business, improve efficiency and assures quality of products," Mr. Melaku suggests.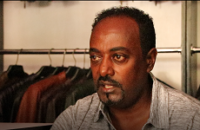 In 2017 Ethiopia has exported around $7.6 million leather goods excluding shoes. This includes leather jackets, bags and related accessories such as gloves, wallets, etc.
The global handbag market size has been expanding over the past years. It is expected to reach $67.9 billion by 2025, according to June 2029 study by report by Grand View Research, Inc.
The current global handbags market is dominated with major players such as, Tapestry, Inc.; LVMH Moët Hennessy – Louis Vuitton SE; Michael Kors; Gucci; Fossil Group, Inc.; Ted Baker plc; Hermès International S.A.; Prada S.P.A.; Chanel S.A.; Burberry Group PLC; and Compagnie Financière Richemont SA.
Penetrating into the global market with new brands like Bille of Yifter and his friends have been trying to do will be full of challenges and requires huge investment and network. "While establishing new brand, perhaps supplying quality products for the already established brands can be an option emerging leather bag factories should consider," Mr. Melaku advices.