Ethiopia's November export declines 5 percent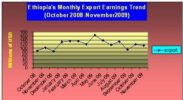 Ethiopia 's total export earnings for the month of November, 2009 declines by around 5% compared to the previous month.

The information newbusinessethiopia.com obtained from Ethiopian Revenue and Customs Authority shows that the country exported products worth a total of 118.61 million USD in October 2009, while this figure declined to 112.91 million USD in November.
Earnings from coffee, which is Ethiopia's major export item declined from 24.27 million USD to 16.55 million USD in November 2009, while oil-seeds export earnings has shown a dramatic increase. Oil-seeds became top foreign exchange generating commodity of the month, fetching 26.53 million USD from it was 8.01 USD during the previous month (October 2009).



Meanwhile, this years' November earning from export has increased by 10 percent from November 2008 where earning was 102 million USD. At the same time, in October 2008, Ethiopia earned 86 million USD and October 2009's earnings grew by 38 percent.
Last year from July 2008 to June 2009, Ethiopia earned a total of 1.45 billion USD from export, which was less by one billion USD from its target.
On the other side, the import bill of the country has also declined to 749.76 million USD by 12 percent for the month of November 2009 compared to the previous month's 851.54 million USD.
When November 2009's import bill of Ethiopia is compared to November 2008, which was 615.88 million USD, it has shown increment by 21 percent.