East Africa's Besh Gebeya to open 25 stores in Ethiopia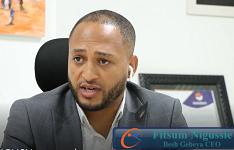 Besh Gebeya, one of the over a dozen companies of East Africa Holdings, aims to create 100,000 jobs within the coming five years opening 25 additional stores in Ethiopia and two in the neighboring countries.

"In the next five years we will have 25 additional stores all over the country and two Besh Gebeya cash and carry stores outside Ethiopia. We will reach 100,000 employees," said CEO of Besh Gebeya, Mr. Fitsum Nigussie. In an exclusive interview with NewBusinessEthiopia.com of BEHAK Multimedia he noted that the additional stores will be opened in Addis Ababa and several fast growing cities of Ethiopia.



"We have about 400 employees and fifteen plus branches in two product divisions. One is fast moving consumer goods and the second division is construction and construction materials division," he said indicating that 12 of the stores are under fast moving consumer goods division.
The three of the cash and carry stores of Besh Gebeya are located in Addis Ababa and one in Bahir Dar, the capital of Amhara Region of Ethiopia.
"East Africa Trading House has been in the market for the last twenty plus year in the distribution and wholesale business. In 2017 we become Besh Gebeya rebranded ourselves," Fitsum said.
At the moment the annual turnover of Besh Gebeya has surpassed two billion Birr, according to Mr. Fitsum, who also indicated that within six months period, Besh will also launch a full-fledged ecommerce with its own logistics company that delivers goods to the gates of the customers of Besh Gebeya.
[embedyt] https://www.youtube.com/watch?v=tBhKC1KffYA[/embedyt]
"Soon we will be having our own ecommerce (online shopping) platform. Between three to six months Besh Gebeya will be online with delivery of its own logistics. When we launch our own ecommerce, we will create 400 to 500 new jobs," he said.
Employing several thousands, East Africa Holdings' over a dozen companies have been engaged in several businesses ranging from manufacturing of construction materials, cosmetics and sanitary products to food processing, among others.