AU, private traders sign deal on regional free trade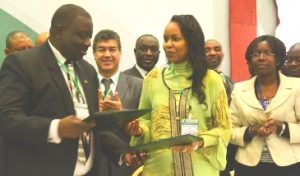 The Pan African Chamber of Commerce and Industry (PACCI) and the African Union on Thursday signed a partnership agreement in Addis Ababa to speed up free trade and economic integration in the continent.
"The agreement we signed today is a legal instrument that guides our relationship and collaboration areas with PACCI," said Fatima Haram Acyl, Commissioner for Trade and Industry at the AU after inking the deal.
"Our agreement goes beyond trade and industry. It includes working together on infrastructure and agriculture, among others," she told the Africa Review reporter in Addis Ababa.
Dr Seth Adjei-Baah, the president of PACCI and representative of Ghana chamber of commerce, said that the agreement will enable the private sector to closely work with the AU on the expedition of regional integration.
The signing coincides with the opening of PACCI's 2013 conference that focuses on the continental free trade area (FTA) African countries envisage to realise by 2017.
"We need to find a way of unlocking intra-Africa trade, which will be the real motor of Africa's growth," said prime minister Hailemariam Desalegn of Ethiopia as he opened the conference.
Currently only 12 per cent of Africa's total trade is within itself. To reverse this, the African Union plans to create an African economic community by 2028 after attaining a continental free trade area by 2017.
"I am convinced that we can meet the 2017 continental free trade area deadline as the process is on course," said Mr Alan Kyerematen, coordinator of African Trade Policy Center at the United Nations Economic Commission for Africa.
"Meanwhile, the challenge for us now is how to deepen what has already been started," he said.



Mr Kyerematen said that the mobility of people and capital would be on the meeting's agenda and urged the private sector and African governments to work together to realise the FTA on time.
But PACCI executive director Kebour Ghenna says it is unlikely that Africa would realise a FTA by 2017 at current pace. "We don't think that target will be made," he said.
"Frankly speaking I am not the only one who feels that the plan is too ambitious but that is what the governments have decided. At private sector we feel like there are a lot things need to be focused on."
Representatives of chambers of commerce from 35 African countries are attending the two-day conference.