ABBAHAWA coffee export surges to $34 million
ABBAHAWA Trading Private Limited Company, one of the top Ethiopian coffee exporting company, has exported worth $34 million during the budget year of Ethiopia concluded July 7, 2020.

This year's earnings of the company from coffee export has increased by around $14 million compared to the previous budget year, according to General Manager of Enyew Zeleke. In an exclusive interview with NewBusinessEthiopia.com, Mr. Enyew stated that the growing demand for the Ethiopian coffee has helped ABBAHAWA and the country to generate better earning from coffee export this year.



Over the past five years, ABBAHAWA has generated a total of $150.5 million by exporting coffee to different countries including Europe, United States of America, Japan and The Middle East. During Ethiopia's budget year concluded July 7, 2020, Ethiopia has earned $854.2 million from export of coffee, according to the Ministry of Trade and Industry data, which indicated that some 400 companies including ABBAHAWA are engaged in coffee export.
The manager stated that ABBAHAWA is currently using the latest coffee processing and cleaning machine with color sorting capacity.
He also indicated that unlike the previous few years, improvement of peace and stability of the country has also helped the company and Ethiopia in general to get coffee products and export on time.
The fact that the company has also imported 20 heavy tracks fitted with modern technology of tracking has also helped it to address the logistics problems in relation to transporting the coffee to the Djibouti Port for shipment, according to the GM. Mr. Enyew also stated that to boost the foreign currency earnings of the company and create more jobs, the company is working on a project that will enable it to roast, grounded and export packed coffee.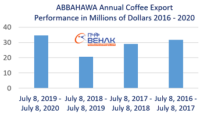 Meanwhile the project is stuck for the past three years because both the Addis Ababa City Administration and Oromia Region have not yet responded to their demand of getting land to build the processing plant, according to Mr. Enyew, who urged the government to provide land to the company.
"Our company has already proven track record in creating over 800 jobs engaging in various sectors and generating over 10,000 million Birr tax revenue and tens of millions of dollars of hard currency for the country. What we are saying to the government now is let us increase our contribution to the country by exporting processed packed coffee," he said.
Named after the grandfather, ABBAHAWA, who was engaged in supplying coffee to domestic traders five decades ago, ABBAHAWA Trading PLC is engaged in multiple business areas including import of goods and water bottling industries among others.