Political parties agree to avert ethnic clash in Ethiopia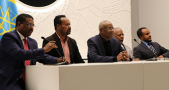 Seven Oromo and Amhara political parties, including the two in the ruling coalition, have agreed to avert the escalating ethnic tension and clashes between Amhara and Oromo university students.

In their statement at the Prime Minister Office this morning, the political parties have urged all political activists and media outlets to refrain from fueling ethnic and religious clashes among the different communities of Ethiopia, which have lived for centuries together peacefully.



"We have agreed to fight against and tackle together any sort of campaign that aims to instigate ethnic clashes between the people of Oromo and Amhara," the representatives of the parties said in their statement.
Reports show that over the past few days tension and fear has been rising among university students mainly those from Oromo and Amhara ethnic groups. This has come following the allegedly killings of two Oromo students in Woldiaya University, which is found in Amhara region of Ethiopia. In what looks retaliation to the incident some universities in Oromia region have been reporting clashes.
In the presence of Prime Minister Abiy Ahmed the political parties have met on Thursday to discuss on how jointly address the problem and avoid major catastrophe in the country, like that of Rwanda.
The seven major political parties currently operating in both Amhara and Oromia regions of Ethiopia have agreed to work together in order to tackle the grave danger of moving into ethnic clashes between the two major ethnic groups in the country, according to Merrera Gudina (PhD), Chairman of Oromo Federalist Congress.
The political parties include the Oromo Liberation Front, Oromo Federalist Congress, and the two members of the ruling coalition (Ethiopian People Revolutionary Democratic Front) – Amhara Democratic Party and Oromo Democratic Party, among others.