Office updates diplomats in Ethiopia about election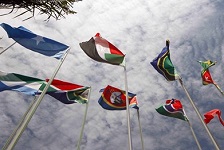 The Office of Attorney General has briefed diplomats based in the capital, Addis Ababa, about the upcoming 6th round of general election Ethiopia is set to hold within a year.

During the briefing Federal Attorney General Timotios Gedion (PhD) indicated that the country has made preparations to make the upcoming 6th general election fair and credible. He noted that a level playing ground that allows opposition political parties to compete freely. He also mentioned that the government has been working diligently to improve women's political participation in Ethiopia.



Initially Ethiopia was planning to hold its 6th general election, which takes place every five years, last May. Meanwhile, because of the global pandemic, coronavirus, in April the Parliament has decided to suspend.
Indicating that over the last six months the country has made progress and obtained good results in combating the spread of the pandemic, the Ministry of Health advised the Parliament that with proper precautions the country can hold its 6th general election. Based on the recommendation of the Ministry the Parliament has given green light to the National Electoral Board to start preparations to hold the lection within one year period.