Member of Parliament of Germany and Vice chairman of the Konrad Adenauer Foundation,Hermann Grohe, urges Ethiopia to avoid "at all cost" the kind of after election unrest that claims over 1,500 lives in the neighboring Kenya in 2007.

"In any case situation that has happened in Kenya in 2007, which led to chaos and unrest that claims lives of more than 1,500 people, should be avoided at all cost," said Hermann Grohe, Member of Parliament of Germany, Vice chairman of the Konrad Adenauer Foundation. He made the remark in Addis Abba, this afternoon at a workshop organized by Konrad Adenauer Foundation focusing on the rule of law and human rights.



Ethiopia is scheduled to hold its general election in May 2020.
"In addition to the integrity of the political process and the election success of any democratic government of coarse depends on social, economic and inclusive development progress for the majority of the population. The large proportion of young people and the huge intake of refugees by Ethiopia don't make this task any easier," he said, indicating that Konrad Adenauer Foundation will be opening office in Addis Ababa, soon to support the efforts of the government of Ethiopia in advancing human rights and exercising the rule of law.
"Article 21 of the Human Rights Declaration stipulates everyone's right to free and fair election. Unfortunately, this right is being withheld people in many countries in Africa in particular. I hope that Ethiopia will set a positive example for others to follow. The election schedule for May 2020 will be important test for the reforms and for the democratic change," he said.
"A lot will depend on whether the current opposition and perhaps also the international observers judge them to free and fair. Fair election includes the fulfillment of human rights during election process, eligibility to vote ad also ran as a candidate for office has to confirm with international norms. It should not be restricted," Mr. Hermann Grohesaid.
He also indicated that all candidates should be allowed to campaign without restrictions as well as civil societies and the media should also be allowed to freely move and report the election and campaigns process. The counting process has to be transparent and reliable, according Mr. Hermann Grohe who stated that after the election result will be announced the looser has to accept the result and act as constructive opposition.
He also stated that Ethiopia is one of the three countries in Africa along with Egypt and Liberia to sign the international human rights declaration.
He stated that many serious conflicts could be avoided if government will be more relaxed when hearing decent critics from the population, civil societies and opposition parties.
"They should recognize it as a part of a joint effort to improve the wellbeing of all. Visionary leaders in Ethiopia have embarked on this transformation process for the past two years. That is why the world is now closely watching the events in Ethiopia," said Mr. Hermann Grohe.
German Ambassador to Ethiopia, Brita Wagener, on her part indicated that her government will continue to support Ethiopia's economic and political reforms financially and technically.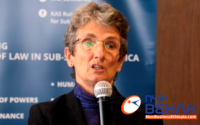 "Ethiopia has initiated and embraced an ambitious reform agenda both politically and economically… This reform partnership constitutes a new quality of cooperation. Following ambitious reform Germany will make available significant additional funding more than 350 million Euros and increase its support through technical assistance," she said.
She also indicated that in addition to government to government level cooperation, Germany has been supporting the civil societies in Ethiopia.
"The election and everything around it are indeed major steps in Ethiopia's reform process. We all know it is not that easy and not always straight path. Yet every step towards the rule of law and opening the political and economic space will help the process to be successful," Ambassador Brita Wagener said.
He further indicating that the over 60 years of relation between Ethiopia and Germany has entered a new chapter of cooperation that involves Germany's support to advance Ethiopia's ongoing political and economic reform.



[embedyt] https://www.youtube.com/watch?v=CwwR6jHJvxg&width=640&height=360[/embedyt]