Ethiopia prepares to establish government of the people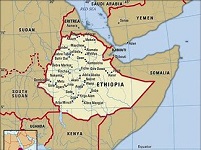 The successful conclusion of Ethiopia's recent general election is monumental for Ethiopia in the country's journey to democratizing and the results of the elections have given legitimacy to a government of the people, said Government official.

During the weekly briefings of the media Press Secretary of the Office of Prime Minister of Ethiopia Billene Seyoum today indicated that the peaceful conclusion of the elections has been monumental for Ethiopia in the country's journey to democratizing and the results of the elections have given legitimacy to a government of the people.



" Among the many key milestones achieved in the Ethiopian Calendar 2013 is the successful conclusion of the 6th National Elections, with the exception of some areas – which will be going to the polls next week to cast their votes….Resultantly, October 4 2021 will mark the formation of a new government that will continue paving the path for a new dispensation for Ethiopia," she said.
It is recalled that the Prosperity Party led by Prime Minister Abiy Ahmed has won the election and is set to establish a new Government next month. Prosperity Party was established a few years ago after the former ruling Coalition – Ethiopian Peoples Revolutionary Democratic Front (EPRDF) was overwhelmed by popular protest that led to the resignation of the former Prime Minister Hailemariam Desalegn.
Following his resignation and election of Abiy Ahmed as Prime Minister, three of the four members of EPRDF has transformed EPRDF into Prosperity party, which has launched major economic, political reforms.
Meanwhile the Tigray Peoples Liberation Front (TPLF), which was the dominant within EPRDF controlling the politics and economy of the country since it came to power in May 1991, has refused to join Prosperity Party and decided to come to power through arms struggle.
As a result, TPLF militias has attacked Ethiopian military base in Tigray Region last November to overtake heavy armaments of the country and advance to Addis Ababa to return to power. As their attempt failed, the war between TPLF militias and Ethiopian national defense force has continued to this date leading to the death of thousands and displacement of millions of people.
During her today's briefing she also covered the following issues.
" 1.     Activities of the past week:
New Year's at Mai Tsebri Front
–       On Saturday September 11th Prime Minister Abiy Ahmed visited the Western Command of the National Defense Forces at the Mai Tsebri front to celebrate the Ethiopian new year with them and encourage them to continue guarding the nation.
–       During his remarks he indicated the efforts being undertaken to build a modern national defense force that pays allegiance to the unity and territorial integrity of the country.
–       He further thanked the members of the ENDF for demonstrating compassion in the line of duty towards apprehended TPLF fighters in adherence to military code of conduct
Humanitarian Response Update in the Northern Part of the Country
Per data received from the National Disaster Risk Management Commission:
Tigray
–       Humanitarian flights for personnel, cargo, and cash is still ongoing and movement is being undertaken from Addis to Mekelle through UN Humanitarian Air Service flight
–       EU-Humanitarian Air Bridge has also started humanitarian flights to Tigray region
–       As of September 14, 2021, 32 partners have been granted permits to transport ETB 144 million to Mekelle for their humanitarian operation.
–       Humanitarian partners WFP and JEOP – (a CRS lead consortium) are currently operating in Tigray region and dispatching food to woredas and distributing to beneficiaries.
As of September 14, 2021: 
Humanitarian partners have deployed 590 trucks to transport humanitarian cargo from Semera to Mekelle.
15,005 Mt of food transported (Wheat, Oil, Pulse, Corn Soy Bean)
5,785 Mt Non- food items transported (WASH, Health, Shelter)
759,235 Liters fuel transported
1,036 Mt seeds transported
No trucks stranded in Semera and check points at this moment
–       Since checkpoints have been decreased from 7 to 2 checkpoints, movement of humanitarian assistance into the region has been facilitated by the Government and no access issues have been noted.
–       Resultantly, the often-raised challenges raised by humanitarian actors has been lifted. Although this issue has been addressed to facilitate smooth flow, the number of trucks being dispatched by humanitarian actors has not increased.
–       Relatedly and specific to one agency, of 466 trucks that have entered the region to deliver humanitarian assistance, only 428 trucks are yet to exit the region, raising speculation on their utility and delay in returning. 




Afar
–       The Government together with World Food Program is mobilizing resources for the IDPS. AS of September 14, 2021 NDRMC, and WFP distributed 10,492 quintals of food for more than 70 thousand displaced people. Assisted beneficiaries are IDPs from six woredas.
–       The food consists of wheat flour, Rice, CSB (corn soy blend), Pulse, Oil and wheat.
–       The response will be continuing by the Government and humanitarian partners;
–       Food assistance has been secured through to October 2021.
Amhara
–       In the Amhara region, the number of displaced persons has exceeded more than 500,000. IDPs are mainly from Waghamera, North Gonder, South Gonder, North Wollo, and South Wollo Zones of the region.
–       IDPs who have been displaced from different woredas in North Wollo due to TPLF provocation/attacks and currently sheltered in Desse Town (South Wollo Zone) have reached 270,318.
–       As of September 14, 2021, NDRMC and partner distributed 27,683 quintals of food for IDPs in Desse Town. More than 178 thousand beneficiaries are reached.
–       9 trucks loaded with 2,617 quintals food have been dispatched to IDPs in Wag-Hemra Zone.
–       As of September 08, 2021, five trucks reached and unloaded 1,940 quintals foods for North Wollo beneficiaries who have been in Dawent woreda. ORDA distributed the food for 11,445 beneficiaries.
–       However, assistance to some woredas in North Wollo that are besieged by the terrorist group TPLF have been hindered. North Wollo is one of the areas under safety net program and prone to food insecurity. As such, TPLF's hindrance for humanitarian actors to reach civilians in need is worsening the situation.
–       Not only has the terrorist group destroyed the livelihood of people in the region, but is also holding hostage the people of North Wollo and systematically blocking assistance from reaching.
Coordination Mechanism
–       Regional Emergency Coordination Center activated in Bahir-Dar and Semera town to closely work with the National Emergency Coordination Center.
–       Incident command posts are also activated at Gonder and Desse town to further strengthen the communication and coordination mechanism at ground level.
–       Relevant Federal Ministries and regional sector bureaus are assigned expertise in the coordination platforms.
–       All clusters (Food, WASH, Health, Education, Shelter, and Agriculture) are also members of the emergency coordination center.
–       In stakeholder meetings held with International humanitarian organizations, partners have been advised to scale up their assistance to beneficiaries in Amhara and Afar regions who have been displaced from their homes and livelihoods affected by the TPLF.
–       Assistance to these two regions warrants the same level of intensity and support show as there are those in desperate need in these regions as well due to TPLF's incursions. "