Ethiopia pardons TPLF members, Oromo & Amhara activists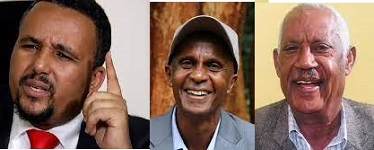 A head of launching national dialog, the Government of Ethiopia said it has dropped charges of many prisoners including those key figures in Tigray Peoples Liberation Front (TPLF), Oromo Federalist Congress and Balderas for Genuine Democracy, among others.

The Ministry of Justice of Ethiopia said it has made a decision to drop charges of several individuals including, popular Oromo political activist and member of OFC Jawar Mohammed, and Eskinder Nega of Balderas, among others.



The Ministry of Justice of Ethiopia on Friday – the day Ethiopians celebrated their Christmas – Genna Holiday – announced the news on its social media page in Amharic language. Today the state broadcaster ETV quoted Minister of Justice of Ethiopia, Gedion Timothewos (PhD) about why the Ministry decided to cancel all charges against the individuals.
He is quoted as saying the critical health conditions of some of the old individuals who were TPLF members but not central Committee member at the moment is also one of the reasons for dropping charges against them.
It is also stated that the release of other opposition figures such as Jawar Mohammed and Eskinder Nega and other politicians from Tigray region will help the Government to make its upcoming national dialog all inclusive.
The statement of the Ministry of Justice came a few days later after Prime Minister expressed his dissatisfaction about the justice system of the country especially in relation to arresting over 70 years of age people who are struggling with severe diseases such as diabetes and the like.



The decision of the Ministry of expected to be approved by the President of Ethiopia, who has the mandate to pardon prisoners. The pardon of the Ministry is expected to include one of the founders of TPLF, Sibhat Nega, and other central committee members of TPLF as hinted on the Ministry's social media post which mentioned those whose charges will drop include individuals charges along with Dr. Debretsion Gebremichael, TPLF chairman. .
After completing the public nomination of the members of the independent National Dialog Commission who can lead the discussions, Ethiopian Government plans to launch an all inclusive national discussion to bring consensus on the major controversial issues such as articles of the contrition, regional boundaries and the like.
To make the national dialog more include, the government is also expected to release from prison some of the non-executive members of armed groups such as, OLF Shene, which along TPLF is designated as a terrorist group by Ethiopian Parliament, and other ethnic groups which are currently engaged in arms struggle with Ethiopian Government.
Constituting all representatives of all Ethiopians from various interests and ethnic background and professions, The national dialog is expected to last between three to five years.