Ethiopia liberates many towns from 'terrorists'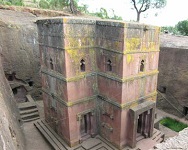 The National Defense Force of Ethiopia along with Afar Special Force, Amhara Special Force, and Fano have liberated many major towns in Amhara and Afar regions of Ethiopia from Tigray People Liberation Front (TPLF).

TPLF, which is designated as a terrorist group by the Ethiopian Parliament has lost this week major strategic towns including Chifra, Burqa, Gashena, Aqet, Lalibela towns and Lalibela Airport, among others.



The major defeats of TPLF came following last week's decision of Prime Minister Abiy Ahmed to lead the war from frontline.
Lalibela town, which is liberated today, is known as the home for the rock-hewn 11 medieval monolithic cave churches of the 13th-century. Located some 645 km from Addis Ababa, the Lalibela churches are registered as world heritage by NESCO.
The areas liberated from TPLF also includes towns such as, Shewa Robit, Debresina, Wegen Tena, Mezezo, Mollale towns, according to Legese Tulu, according to Minister of Ethiopian Government Communications.
Now out of Tigray region, the major towns remained under control of TPLF are Dessie, Woldiya, and Kombolcha, which are also expected to be liberated in the coming days or weeks' time, according to Government sources.