President Trump dealmaker or war advocate?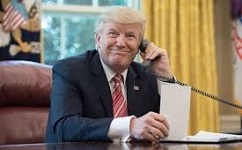 By Aregu Balleh- About a year ago President Trump contested the decision of the Norwegian Nobel Committee to award Ethiopia's Prime Minister Abiy Ahmed as the winner of the 2019 Nobel Peace Prize claiming, that he, not Prime Minister Abiy, deserved the prize.

Months later, he withheld aid to Ethiopia after his failed attempt to pressure the country into accepting a tripartite agreement over the Grand Renaissance Dam which clearly meant to favor Egypt.



Now, as part of his desperate attempt to salvage his dwindling chance for re-election by portraying himself as a great negotiator who can bring peace to the Middle East he is determined to do whatever pleases Egypt and Sudan so long as they are willing to normalize relationships with Israel even if that means inciting war on a sovereign country.
To that effect the president, in one of his most bizarre moves ever, made a personal call on Friday to the Sudanese and Egyptian leaders to gang up on Ethiopia which he blasted for refusing his one sided proposal for a deal.
He even went as far as suggesting that Egypt can blow up the dam Ethiopia built with taxpayer money. President Trump is no stranger to controversial remarks and decisions. However, for the leader of the free world, to advocate for two sovereign countries to go to war is simply outrageous.