Ethiopia to spend $1.9 billion for edible oil import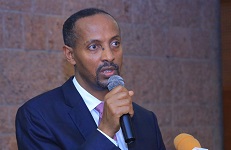 The Ministry of Trade and Industry says Ethiopia needs $1.9 billion for the coming two years to import edible oil.

Though the local edible manufacturing factories have production capacity to fully meet the demand of the country, Ethiopia is forced to import the product because of raw material shortage, according to Melaku Alebel, Minister of Trade and Industry.



Speaking this week at a forum that focused on the country's edible oil related issues he noted that the total number of active edible factories in Ethiopia has doubled in the past few years reaching 30 at the moment, says the Ministry of Trade and Industry of the country.
Currently the total production capacity of the 30 factories has reached to 1.25 billion liters of edible oil per year surpassing the total demand of the country, according to Mr. Melaku.
He noted that currently the total demand for edible oil in Ethiopia is estimated to be 906 million liters per year. Meanwhile only 40 percent of the total demand is currently covered by local edible product.
This is mainly because the local factories are not producing at their full capacity due to various reasons including shortage in supply of raw materials-oil seeds. As a result, the country is being forced to import bulk palm oil to do the refining and packaging by the local edible manufacturing companies, according to Minister Melaku whose statement is shared on the official social media page of the Ministry.



The Minister noted that Ethiopia has embarked on a ten years' plan that will allow it to end import of raw materials for edible oil manufacturing. Ethiopia eyes to boost oil seeds production and create strong linkage between the agriculture and the manufacturing sector to end spending of hard currencies for importing processed agriproducts.