Ethiopia inaugurates biggest edible oil factory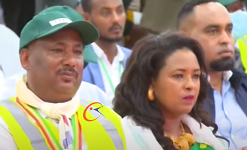 Prime Minister Abiy Ahmed today inaugurated Fibela Industrial Complex, the biggest edible oil factory in the factory covering 60 percent of the demand of the country.

The factory built in Amhara Region with a total investment of 4.5 billion Birr. Built within Bure Integrated Agroindustry Park, the new factory has the potential to produce 1.5 million liters of edible oil. Fibela Industrial Complex is set up by Belayneh Kinde Group (BKG). When the new factory begins production at its full capacity, it will be able to meet 60 percent of the total demand of Ethiopia for edible oil.



The factory will also be able to create 3,000 jobs. The factory will be distributing its produces as of tomorrow, according to the investor Belayneh Kinde. Built in Bure town, Bure Integrated Agroindustry Park, covers over 240 hectares of land. So far it has allocated 26 hectares to nine factories, which are currently constructing their factories.
In addition to edible oil, Fibela Industrial Complex has factories that produce soap, carton, butter, plastic packaging materials. Mr. Belayneh Kinde who indicated that he began his business journey 29 years ago from a loan of 4,600 Birr he got from his mother. In his statement, Prime Minister Abiy urged rich people in Ethiopia to be wealthy like Belayneh Kinde, who just don't collect money but do great things to their community and the country as well as doing big things for generations.
"When fully operational, Bure Integrated Agroindustry Park will create 100,000 permanent jobs & nearly 900,000 temporary jobs. This feeds into the Government's efforts to build market oriented agriculture & strengthen the agro-processing sector," Prime Minister Abiy twitted.
Currently Belayneh Kinde Group is engaged in many businesses from export trading to manufacturing. Among them are Ethiopian Hotel in Addis Ababa, the under construction Hilton Hotel in Bahir Dar, Oil seeds farm sect to be launched on 10,000 hectare of land in Guba in Benishangul Gumz Region. BKG is also engaged in assembly of vehicles in Gelan town of Oromia Region.
Electric power and forex shortage is the major challenges the new Fibela Industrial Complex is facing in order to produce at its full capacity, according to Belayneh Kinde, who urged Prime Minister Abiy Ahmed to address the problems.



The construction of Fibela Industrial Complex has begun six years ago. In his speech at the inauguration Mr. Belayneh on behalf of his 5,000 employees uploaded the contribution of Prime Minister Abiy Ahmed for realizing Fibela Industrial Complex.
Including Bure Integrated Agroindustry Park and Yirgalem Agroindustry Park, Ethiopia is currently building four agroindustry parks in different parts of the country with a total investment of over $730 million.
When these four integrated agro processing factories go fully operational, the Ministry of Trade and Industry of Ethiopia estimates that the Parks will be able to generate 20 billion by exporting their products, according to Melaku Alebel, Minister of Trade and Industry who spoke at the inauguration of Bure Integrated Agroindustry Park.
– Follow Us on Twitter https://twitter.com/newBuz_Ethiopia
– Subscribe to our Youtube https://www.youtube.com/c/Newbusinessethiopia/featured
– Find us on Facebook https://www.facebook.com/newBusinessEthiopiacom/
– Find us on LinkedIn https://www.linkedin.com/company/newbusinessethiopia
– Find us on Telegram https://t.me/EthiopianExclusiveBusinessNews