Ethiopia expects boosting textiles revenue tenfold to one billion dollar


Increasing its current earnings from textiles export by tenfold, Ethiopian government expects to generate one billion dollars per year when the recently established Hawassa Industrial Park, located 250 kilometers south of the capital, goes fully operational, a government official said.
"Currently 37 factories have started production at different levels at Hawassa Industrial Park. After two years when all of them go operational at their full capacity, we expect to generate export revenue of one billion dollars after two years from export of textiles," said Fitsum Arega, Head of Ethiopian Investment Commission (EIC). Currently, Ethiopia is got around $100 million dollars from export of textiles last year, which less by $20 million from the previous year.
He told journalists this morning at the sideline of a meeting of representatives of different government offices gathered to review the regulations that governs industrial parks in Ethiopia.
To boost the performance of manufacturing sector, the government has passed a new proclamation on industrial parks development two years ago, which led to establishment of Ethiopian Industrial Parks Development Corporation (IPDC) . The draft regulation the different government offices have gathered to discuss today includes on the implementations of the proclamation.
"We have been discussing on the draft regulation for over one year with various stakeholders including the private sector. This is our fourth and final round to refine the regulation," said Dr. Belachew Mekuria, Deputy Commissioner of Industrial Park Division at EIC.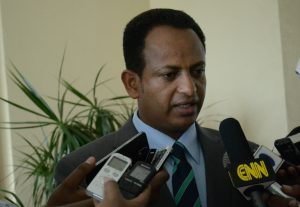 Currently while three industrial parks are being under construction by three private companies, the government aims to finalize construction of ten industrial parks across the nation in the five year plan, which began implementation around two years back.
Recently, IPDC awarded the construction of three industrial parks in Addis Ababa and Jimma at a ceremony to three Chinese construction firms. The total cost of the project was 10.5 billion birr (close to half a billion dollars).
Among others, industrial parks in Ethiopia are aimed to help the industrialists access government services easily in one window within the parks and provide relevant infrastructures for both local and foreign investors as well as their employees, according to Mr. Fitsum who noted that Ethiopia is working to learn from the Chinese experience of industrialization through industrial parks development.
He also mentioned that including technical support the government has provided incentive of 85% to 90% of their total investment to local investors, which the government selected to join the Hawassa Industrial Park. Meanwhile he said so far no foreign company operating in the park has been given financial incentive from local banks.