Sheikh Mohammed bin Zayed, Crown Prince of Abu Dhabi and Deputy Supreme Commander of the United Arab Emirates (UAE), who is on official visit in Ethiopia, signed a $3 billion investment agreement with Prime Minister Abiy Ahmed of Ethiopia.
Out of the $3 billion, UAE will deposit one billion dollar to the National Bank of Ethiopia in a few days' time, according to the agreement. Agreement is signed between National Bank of Ethiopia and Abu Dhabi Fund for Development. The money is expected to help Ethiopia, which is suffering from hard currency shortage.



The remaining two billion dollars will be invested in Ethiopia as foreign Direct Investment by the private sector of UAE. Sheikh Mohammed bin Zayed has also visited Ethiopia's Bole-Lemi-Industrial Zone along with Prime Minister Abiy Ahmed.
"I was pleased today to arrive in Addis Ababa, a city of history, civilization and cultural diversity. I am even more delighted to enhance ties of friendship and cooperation between our countries," twitted Sheikh Mohammed bin Zayed.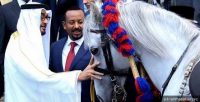 It is recalled that a few weeks ago not long after taking office, Prime Minister Abiy Ahmed has also visited the UAE.