British trade, investment envoy to visit Ethiopia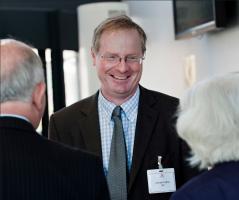 The British Prime Minister's newly appointed trade and investment envoy to Ethiopia, Mr. Jeremy Lefroy MP, is set to visit Ethiopia on 21-22 September, the British Emissary said.
During the visit, Mr. Lefroy is meeting senior Government officials from the Ministries of Finance, Water, Irrigation and Electricity as well as visiting the Ethiopian Investment Commission. In the meetings, he will discuss areas where the UK and Ethiopia can deepen their trade and investment relationship.
On assuming his role, Mr. Lefroy said "It is a great honour to have been appointed. Ethiopia is a beautiful country whose people have a proud history and bright future. As well as being Africa's pre-eminent coffee producer and a wonderful country for visitors, it is investing in modern manufacturing enterprises and the infrastructure to support them.
"The election of former health minister Dr Tedros as Secretary General of the WHO also shows Ethiopia's contribution to and influence in global health.  I look forward to working with UK and Ethiopian businesses to expand trade between our two countries."
Commenting on the visit, British Ambassador HE Ms Susanna Moorehead said "I am delighted that the new Trade Envoy Jeremy Lefroy MP is visiting Ethiopia, [the first visit by a newly appointed trade envoy anywhere in the world]. His appointment reaffirms the UK's commitment, set out by Foreign Secretary Boris Johnson during his visit earlier this year, to strengthen our trade and investment relationship with Ethiopia. I am confident that with Jeremy's support the UK – Ethiopia trade and investment relationship will reach new heights."



Bilateral trade in goods between UK and Ethiopia has already grown by 84% in the past five years. The recent Ethiopian Airlines £1.2 billion order from UK manufacturer Rolls Royce for ten A350 engines and maintenance and repair services demonstrates the growth potential, if it is supported by a concerted effort from both sides.
UK investment is also increasing. UK firm Diageo's $339m investment to acquire Meta Abo Brewery allowed for a new expansion project to increase the capacity of the facility. A number of British firms have also invested in mining, consumer goods, processed food and the leather industry. There is significant UK investment in renewable energy. And there is growing UK commercial interest to invest in the infrastructure, manufacturing and consumer goods sectors.
Trade Envoys are British Parliamentarians appointed by the British Prime Minister to develop the bilateral trade and investment relationship with emerging countries with substantial trade and investment potential. Mr. Lefroy is a Member of Parliament in the UK House of Commons. He has experience in a wide range of fields including manufacturing, international trade, agriculture, private equity and public health, making him well placed to advance the bilateral relationship.