By Adualem Sisay Gessesse – Born in Arsi and grown up in Desse area of Ethiopia, Mr. Tadiwos, now in his mid-50s was exiled to Sudan when he was only 18 years old. For the first three years he lived in Omdurman, Sudan as refugee. Then he got an opportunity to go to the United States of America; thanks to the Catholic Church. That has opened the door for Tadiwos Getachew Belete to study and work in the hospitality sector in the United States for about 20 years.

Returning back home 16 years ago, he introduced a fancy lodge branded Kuriftu in Bishoftu (Debre Zeit) town located some 30 kilometers at the outskirt of Addis Ababa.



Today expanding its presence beyond Ethiopia, Kuriftu Resorts and Spa entered the neighboring Djibouti market by introducing a classic seashore restaurant. Wearing a white T-shirt on Tuesday evening he and his friends, families and employees are finalizing the remaining works to officially open the restaurant after two days.
"I believe we have done something new for this city," Tadiwos, said for a group of journalists from Ethiopia who came to cover another event but show up to steal about an hour from his busy day.
Built on 2,000 square meters, the waterpark restaurant in Djibouti has consumed so far $2 million investment, according to Mr. Tadiwos who indicated that the company he started alone has now one individual partner. The restaurant can accommodate up to 400 people sitting ad up to 1,000 people for cocktail reception, according to Tadiwos.
Kuriftu currently owns 11 resorts in different parts of Ethiopia. The company has created jobs for over 3,000 who are also got hospitality training at Kuriftu.
"…As Africans, we have been receiving so many brands from all over the world. Now we are venturing out of Ethiopia because we want to be an Africa brand, We want to show the world that an African brand can be as good as or even better than any other brand," he said, indicating that Kuriftu is also planning to expand its chain of resorts, restaurants and spa in other Africa countries.
With its partner, Kuriftu is also building its second project, Kuriftu Resort in Moucha (Musha) Island of Djibouti for a total of around $7 million investment.
"We are constructing one of the most beautiful resorts in one of the most beautiful beach. Djibouti will benefit from this value added investment. And also the Ethiopian tourism benefits from this because what we lack such as, the blue water, white sand and the sea foods are rarely available for Ethiopia tourists or Ethiopian residents or expats. Ethiopian Airways or Djibouti Airways or Kenya Airways or other airlines can package the tourist attractions of both countries as one destination and benefit the region," he said.
It is time for the Africa private sector to take the wheel ad speed regional economic integration, according to Mr. Tadiwos.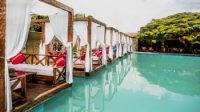 "It is not the time for Africans to expect some other people to do for us the things we should do. There have been too many talks about regional integration. I believe this is the time for us [African citizens] to act and do what we have to do. We couldn't be expecting anyone else to come and do for us," he said, commenting on the role of African private sector to take forward regional integration related decisions being made by African leaders.
Today Kuriftu is considered by many people as the standard setter for hospitality business in Ethiopia, mainly lodges and spa.
"I used to have dese hair on my head like you," Tadiwos said to one of the journalists, stressing the hardship he went through following his dream with commitment.
Meanwhile he doesn't look tired at all. One can read from his eyes that Kuriftu is not going to stop his expansion in Djibouti and Ethiopia. But for now his focus seems more on how to welcome colorfully his guests and satisfy them on Thursday.
Who knows, his guests may include dignitaries, which may include the president or the first lady of the fast growing tiny country in Eastern Africa with around one million populations.