Ethiopian inaugurates hotel, airport in Addis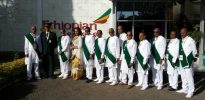 Ethiopian Airlines today inaugurates its first five star hotels and its expansion of airport in Addis Ababa, in the presence of Prime Minister Abiy Ahmed of Ethiopia.

Located five minutes walking distance from Bole International Airport, Ethiopian Skylight Hotel is built at a total of $65 million on 40,000 square meters, the hotel has 373 rooms, 4 restaurants, including a big Chinese restaurant, a banquet hall to accommodate 2000 guests at one time among other facilities.



"Ethiopian Airlines is our national pride and a special icon
among our companies as it carries our common name Ethiopia and our national flag. We would like all employees of the airline here and elsewhere to know that we speak of you with pride," Prime Minister Abiy said.
The prime minister urges other Ethiopian companies to learn from the best experiences and working culture of Ethiopian Airlines employees, which managed to establish and manage professionally the biggest aviation group in the continent.
The premier also advised Ethiopia Airlines management to establish the best aviation university in the continent expanding on its current aviation training college. This morning Ethiopian has also inaugurated the expansion of Addis Ababa Bole International Airport.

Tripling its capacity, the expansion will now allow Bole to handle 22 million passengers annually. Speaking at the vent this morning, Prime Minister Abiy suggested that for a country with over 100 million populations, it would be good to expand even more the passengers' handling capacity of the airport to up to 100 million passengers.
"While Addis Ababa Airport took over Dubai as the largest air transport hub
between Africa and the rest of the world, this grand terminal building is further evidence of the development of Bole Airport as one of the largest and most convenient global aviation hubs," said Group CEO Ethiopian Airlines Mr Tewolde GebreMariam.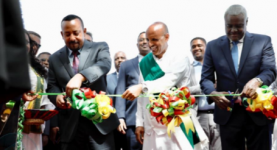 "Ethiopian Skylight Hotel will enable the airline to offer packaged tour and travel programs. Moreover, the hotel will enable Ethiopian Airlines to attract around a third of tourists out of the 6 million passengers transiting
through Bole Airport to visit Ethiopia," he said.
Ethiopia Airlines was established around 73 years ago by a few air planes donated by Trans World Aviation (TWA) of the United States after the World War II. Today with over 100 air planes, Ethiopian Airlines has about half a dozen businesses run under Ethiopian Aviation Group.