Ethiopian government finance institutions profit $332 million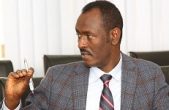 The three state enterprises in Ethiopia engaged in providing financial services have made 10.7 billion birr (about $332.1 million at the current exchange rate) profit before tax during the first six months of Ethiopia's current budget year started July 8, 2019.

The enterprises are Commercial bank of Ethiopia, Ethiopian Insurance Company and Development Bank of Ethiopia, according to the report of the agency in charge of regulating agency, Ethiopian Enterprises Assets and Administration Agency.



Out of the total profit the lion's share – 87 percent (9.33 billion birr – close to $289.6 million) – is secured by the Commercial Bank of Ethiopia, which has over 50 percent market share in banking industry of the country.
The report presented by the officials of the companies to the Agency shows that Development Bank of Ethiopia, which has been registering loss over the past few years, has now made a total profit before tax of 951.6 million birr (About $29.5 million) during the reviewed six month period. The Ethiopian Insurance Company has made close to 427.9 million birr (close to $13.3 million).
It is indicated that the profit the three companies have made is about 10 percent more than the target the enterprises have set for the period. During the period in review the three financial institutions have generated a total revenue of 36.64 billion birr (about $1.14 billion).