Ethiopia increases budget by 7 percent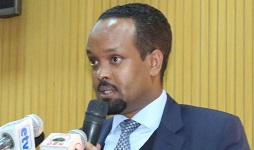 NEWS – The Ministry of Finance of Ethiopia today presented a draft national budget of 476 billion birr (about $13.9 billion) for the next budget year of Ethiopia which begins July 8, 2020.

The proposed budget is 7 percent (30.6 billion birr – about $892 million) more than the previous budget year including the additional budget the country injected to minimize the negative impacts of COVID-19 outbreak.Presenting the draft bill on Thursday to the parliament, Minister of Finance Ahmed Shide stated that the Government of Ethiopia expects to secure 350 billion birr (about $10.2 billion) next year.



He noted that out of this 271.7 (about $7.9 billion at the current exchange rate) is expected from tax revenue, while the remaining gap will be filled with domestic and foreign loans and aid. Next year Ethiopia expects 8.5 percent economic growth if the country continues its fight against the global pandemic properly, according to Minister Ahmed.
"If we managed to grow by 6 percent this year within the early stage of COVID-19 outbreak and fighting the pandemic, we can achieve 8.5 percent growth next year continuing the fight together," he told the MPs. The Minister also stated that by next year the government also expects some amount of money from partial privatization of Ethio Telecom and issuing two new licenses for foreign telecom operators.