Ethiopia collects $114 million from selling electricity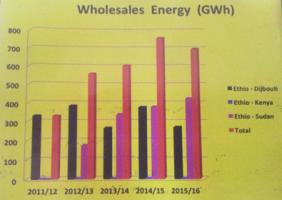 Ethiopia Electric Utility (EEU) collects 3.2 billion birr (about $114 million) bill from its customers during the first six months of Ethiopian calendar started July 8, 2018.

The company planned to collect 3.5 billion birr (about $124 million). Meanwhile it has managed to achieve 94% of its target by collecting 3.2 billion birr, according to the information from EEU.



The latest service fee adjustment made by the company has contributed to better income collection, Shiferaw Telila, CEO of EEU, told reporters on Friday about the performance of the company.
The company has increased its service fees by revising the previous rate, which was in place for the past twelve years. The electric power selling price of the company will be progressively increasing over the coming four years reaching up to 0.8 U.S. cents per kilowatts hour, according to Mr. Shiferaw.
Ethiopia has been attracting foreign investors claiming that it has one of the cheapest electricity in Africa. Ethiopia's electricity tariff was at 0.09 dollars per kilowatt hour.
In addition to domestic market, Ethiopia is currently selling electricity to Sudan and Djibouti. The country is also planing to start selling power to Kenya and other countries in East Africa as well as the Gulf Countries.
EEU was established a few years ago after the government made decision to split the previous Ethiopian Electric Power Corporation (EEPCo) in to two separate entities. As a result, EEU is mandated to deal only with the service provision, while Ethiopia Electric Power (EEP) is established to focus on power generation.
Mainly due to delays to start commissioning ad other project mismanagement, Ethiopia's huge investment in energy development has led the state owned power companies to become the highly indebted state enterprises.
The tariff increment is expected to enable the agencies to pay back the billions of dollars to both local financiers and external lenders.
In addition, the recent announcement of the reformist Prime Minister Abiy Ahmed of Ethiopia to partly privatize mega state enterprises, including the power generation company, is also expected to reduce the debt burden of the nation.
Reports show that from hydroelectric to solar, from geothermal to wind and nuclear energy, Ethiopia has the potential for generating tens of thousands of renewable energy.