IMF, UN agency promise to craft new development model for Africa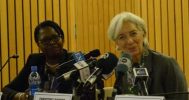 By Andualem Sisay Gessesse-
The International Monetary Fund (IMF) and the United Nations Economic Commission for Africa (UNECA) on Friday announced their plan to introduce a new development model for Africa, which helps the continent achieve sustainable all-inclusive development.
This is indicated by Christine Lagarde, IMF Managing Director who is on official visit in Ethiopia. "We need to identify what tools and financial needs help African youth to harness their potential," she said, stating that 17 African countries economies is currently going down. Christine Lagarde is the first IMF Managing Director to visit Ethiopia.
The two institutions came to partnership following many African countries failure to bring all-inclusive sustainable development, amid registering improved GDP per capita for over a decade.
"We can start with undertaking joint cutting-edge research and analytical work on macroeconomic framework, financial development, and other key thematic fields. We can also collaborate to help African countries improve their economic analysis, statistical and forecasting capabilities in respect to evidence-based policies to promote growth, stability and structural transformation," said Ms. Vera Songwe, Executive Secretary of UNECA.
"…The joint collaboration between the UNECA and the IMF can provide the necessary leapfrog push to African economies, and with the help and commitment of African policy makers, more can be done," she said.
The IMF and the World Bank are criticized by many for their Structural Adjustment Programs of the 1990s, which reportedly led many African economies to debt crisis, among others.
Indicating that including Ethiopia GDP per capita of ten countries is currently less than $1,000 and 40% of the total populations of Africa live below poverty line, UNECA's chief noted that improving the living standard of their population remains a major challenge for African countries.
"African economies have been growing at average rate of close to 5% and the continent's GDP reached about $2.2 trillion in 2016. However this growth performance has not been inclusive…This weak inclusion character of growth in Africa is of serious concern to many African governments…Non-inclusive growth is likely to result not only in rising and persistent inequalities in income and wealth, but also in health, education, and participation in the political process, which may disrupt the sustainability of future economic growth," she said.
"We need to find what kind of economic growth can address these challenges," she said, stating that African countries may need to register GDP growth of probably around 15% in order to overcome the challenges, mainly associated with the growing number of the young population in the continent with 1.2 billion population of which around 70% is young.
Stressin