Ethiopia captures $10 million smuggled cash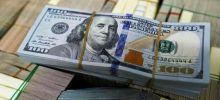 The Federal Police of Ethiopia has captured $10 million while trying to be smuggled out of the country.
Federal Police Commissioner Zeynu Jemal told jouirnalists that dollar has intercepted through the campaign launched to control illegal transaction of dollar in the country. In recent years Ethiopia has been named as one of top countries exposed to money laundering, according to reports.



The operation was conducted in collaboration with the Addis Ababa and Oromia police. Individuals who are suspected of the smuggling are in police custody.
Weapons and ammunition have also intercepted in various parts of the country including Addis Ababa, Zeynu added.
Police has suspected that the trafficking of the weapons and the dollar are linked, the Commissioner said.
According to Zeynu, the attempt to smuggle the dollar out of the country is intended to purchase weapons that would be smuggled into the country so as to be used to disturb the stability of the country. The campaign launched at controlling trafficking of dollars will continue consolidated, Zeynu added.
According to Global Fianncial Integrity report out of the total of close to 26 billion dollars left Ethiopia as illicit financial flows in ten years (2004-2013), about $19.7 billion is left the country through trade misinvoicing, mainly by importers.