Ethiopia bans three foreign aid agencies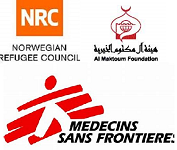 The Government for Ethiopia today announced banning three foreign aid agencies found engaged in illegal activities and out of their mandate.

MSF Holland, Norwegian Refugee Council, and Al Maktoum Foundation of the United Arab Emirates are banned by the Government of Ethiopia for three months. The statement of Agency for Civil Society Organizations, the agency that registers and regulates charities in Ethiopia, has indicated that the three foreign aid agencies are banned for three months until final diction will be reached.
It is indicated that the three agencies were said engaged in activities contrary to their mandate. MSF Holland, and Norwegian Refugee Council are banned for producing and disseminating fake information on social media and other media outlets.
It is also stated that the three aid agencies have brought to Ethiopia staff's and employed them for over six months without getting permission for the relevant government agencies that gives work permit for foreigners in Ethiopia. In addition, MSF Holland has also imported satellite radio communication equipment and distributed to its staff, who have been using the devices for destructive purpose.