USAID launches new activity in Ethiopia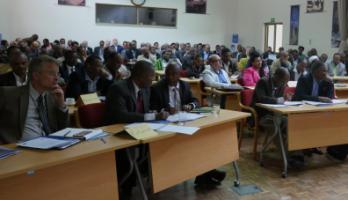 The United States Agency for International Development (USAID) launched the Feed the Future Ethiopia Value Chain Activity to strengthen the agricultural sector as part of the Agricultural Growth Program.
 The purpose of the Feed the Future initiative is to eliminate malnutrition and extreme poverty. USAID currently operates and supports research activities, nutrition, education, and value chain activities directed to improve resilience, health and prosperity as part of the initiative.
This $60 million dollar value chain activity is designed to improve the nutrition and commercial viability of smallholders by improving the performance of the entire value chains to which they contribute. Over the course of the next five years, USAID's activity will work with stakeholders to improve the production, processing and marketing of maize, chickpea, coffee, livestock, dairy, and poultry.



The activity will operate in Amhara; Oromia; Southern Nations, Nationalities, and Peoples; and Tigray that are included within the Agricultural Growth Program areas.
The activity will be implemented by Fintrac, Inc., which has previous experience in Ethiopia. Previously it implemented the Agribusiness and Trade Expansion activity and then the Capacity to Improve Agriculture and Food Security activity.