Ethiopia eyes shifting from importing to exporting plastic products
BY ANDUALEM SISAY GESSESSE –Following the increasing interest of both foreign and local investors in plastic products manufacturing, Ethiopian government has set ambitious plan of ending import of raw materials and some plastic products to exporting.

"The number of both foreign and local investors in the plastic manufacturing has been increasing every. Currently there are a total of 350 plastic manufacturing companies in Ethiopia producing 12 categories of products ranging from automotive tire to the latest wood and plastic blend home partitions and PVC made tiles and small household furniture," said Eng. Yonas Abate, Plastic and Rubber Industries Development Director at the state-owned Ethiopian Chemical and Construction input Industries Development Institute.
The factories employ a total of 19,000 people while there are also hundreds of small plastic product manufacturers at small scale in different parts of the country.
"We are gradually meeting the local demand and moving towards export soon. The investment growth of the sub sector [plastic and rubber] is in line with our Institute's target of an average 20% annual growth," he said.
The total volume of plastic products produced by the factories last year was worth 12 billion birr (over half a billion dollars). Meanwhile still 90% of the inputs of the products are still imported. He noted annually the country imports a total of 170,000 tons of raw materials such as PVC and polypropylene, among others.



Horizon Addis Tire, the only tire manufacturer in Ethiopia and one of the four in Africa, has been produces tires of different vehicles for decades. Currently it has managed to cut 35% tire import bill of the country, according to Yonas who made the comment at a press conference held in relation to the upcoming Plastic and plastic and packaging related trade fair.
To provide latex, which is the major input for tire manufacturing, the government has currently covered 5,000 hectares of land with rubber trees. The government has also prepared another 5,000 hectares of land to plat more rubber trees in addition to the plantation located in Mizan area in the western part of Ethiopia for the factory.
Furthermore the tire factory, which used to be state-owned before being transferred to the Saudi tycoon Sheikh Mohammed Al Amoudi who is born from an Ethiopian mother, has also been planting rubber trees.
Cutting import bill
In an attempt to reduce the raw materials' import bill, Ethiopia plan to convert the natural gas from Ogaden area of the eastern part of the country to liquid form so that the byproduct will be used by plastic factories and help the country reduce its hard currency burden for import, according to Yonas.
He also mentioned that a quarter billion dollar investment is underway to produce PVC, the other major raw material used for plastic and shoes sole production. Dejena Endowment, one of the ruling party owned companies, in partnership with a chemical company is going to setup PVC factory in Mekele City area in the northern part of the country. It is estimated to be operational in 38 months, according to Yonas.
"This will solve a big hard currency burden of the country," he said. Ethiopia, which denied by law foreign banks to operate in the country has been in vicious circle of foreign currency shortage, which often annoys companies who wait for months to get the letter of credit (LC) for import.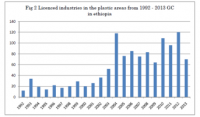 Though the history of plastic products manufacturing in Ethiopia has a 50 years long history, the country still import plastic products such as, laminated PP bags used for packaging by cement and sugar manufacturers are being imported. Mr. Yonas said that Dangote and Derba cement factories are warming up to start manufacturing the bags locally soon.
Plastic industry is vulnerable to volatility in the global price of oil and gas feed stocks, used by the chemical industry to produce its raw and semi-finished materials, according to November 2014 research paper on Ethiopian plastic industry by Alemayehu Tesfaye of Addis Ababa University, who asserted that the leading markets for plastics in Ethiopia are in packaging, building and construction and the automotive/transport industries.
Plastic pollution
Including the capital, Addis Ababa, and major cities, it is common to see thrown plastic bagsbags and water bottles everywhere. Commenting on the environmental pollution related to plastics, Mr. Yonas argued that it is not the factories that pollute the environment with plastic products such as plastic bags and water plastic bottles.
"In fact these factories use recycled waste products including byproducts of petroleum. Environment polluters are the people who use these plastic products. Banning the factories from producing plastic products won't solve the problem. The best solution is teaching and changing the attitude of the public towards waste management," he said.
Recently, the government has closed three plastic products factories for alleged environmental pollution mainly for producing less than 0.3 mm use-and-throw plastic bags.
In Ethiopia it is by law forbidden to produce plastics with thickness of less than 0.3 mm, which cannot be reused.
Though small currently a company is exporting crushed plastic bottles of water worth 2 million dollars. "If all go well as planned, we will definitely move from import to self-sufficiency in raw materials and exporting the finished products in the coming few years," Yonas hopes.
The trade fair, which will be held in Addis Ababa from April 29 to May 2, 2017, will be attended attracted dozens of foreign companies including 38 from Egypt and 9 from China, according to Mr. Aklile Belete, General Manager of Shakcrux Trade & Event Management company, which has been organizing the specialized fair –Ethiopia5P Expo – for the past 6 years.
The business to business (B2B) session of the trade fair is expected to bring in new investments in the plastic, rubber industries and packaging manufacturing companies, among others.