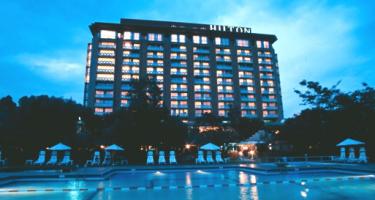 BY ZEKARIAS AMSALU
'TAKE ME TO THE HILTON' – the utterance of travellers for almost a century for their travel and accommodation needs across the world. Now, Investors – not travellers – are on the rush to go to the Hilton, Hilton Addis Ababa. To the Hilton in the diplomatic capital city of Africa. Why? Its current owner is gearing up to sell this 'hot-cake' property as tender to come out in the next couple of months.
THE HOTEL
Hilton Addis opened its doors in 1969 in an inaugural ceremony led by the then Emperor Haile Sellasie as the first International Hospitality center in Ethiopia. It has 402 rooms in its 12 stories high building along with the Garden Wing extension completed in 1987 having an 8 hole mini golf course, 4 floodlit tennis courts, squash, 5 restaurants and bars and 7 meeting rooms accommodating up to 900 delegates.  Architecturally showcasing the UNESCO recognized heritage site Lalibella Church, it boasts the only naturally & geothermally heated swimming pool.
WHY UP FOR SALE?
The Ethiopian Government owns the hotel 100% and had entered into a 50-year management contract with Hilton International to run the Hilton Addis property when opened in 1969. The contract gives Hilton Worldwide a 20% share of revenues, while at the time restricted it from operating another property in the country under the Hilton Brand.
This became problematic as local entrepreneurs are partnering with international hoteliers in bringing more hotel rooms to the country and recently Hilton International has signed an agreement with Sunshine Group to operate Hilton Hawassa Resort.
To allow Hilton International to run other properties in the country and in response to request from local entrepreneurs , the Government has decided to end this exclusive agreement once the current contract comes to an end. Additionally, the Government seems to decide there is no reason for it to continue owning this hotel and hence has requested responsible government organs prepare the property for auction in an open and competitive tender open both for foreigners and locals.
WHY AN ATTRACTIVE INVESTMENT ASSET
Hilton Addis sits at the heart of Addis Ababa – a place CNN mentioned it as a place of "showpiece summits". B   being the seat of African Union, UNECA and various Africa-centered international organizations has resulted the need for conference tourism, and related hotel rooms,  to balloon.
According to Asoko Insight's April sector brief, Sub-Saharan Africa had a pipeline of 44,260 hotel rooms at the end of 2016, with Ethiopia accounting for 2,460. Hilton Addis is well suited to capture this demand as  it sits only 5 minutes' drive to the UNECA conference center and few minutes walking distance from the National Palace and with average room rates of $300-$550 per night – it is one of the top revenue per room generating investment in East Africa.
The caveat
Given the hotel was built in 1969 – and recently downgraded to a 3 star Hotel by  local Authorities, the hotel is in an urgent need for major renovations including to the electromechanical workings and interiors. A decade ago, experts from Hilton International had estimated the renovation cost hovers around $280 Million dollar – not executed at the time and the cost surely expected to have increased in time. Any new investor is likely to get full scale estimate of renovation cost and factor this in valuation of the property in price negotiation.
The Investors knocking the Door
HILTON INTERNATIONAL:- It has shown an interest in acquiring the property it has managed for nearly 50 years and has expressed its position of being a strong bidder for the auction.
Albwardy Investment (ABI)- This >$1Billion turnover  Dubai based Investment group has already acquired other two hotels in Addis Ababa and has been aggressively and proactively requesting to buy this property for a while, even to the point of hiring its own Indian consultants for a feasibility study and preferring a direct negotiation for purchase; though now it has to join the competitive tender along with others.
Shangri-La Hotels & Resort:– The Hong-Kong based hotel group is another entity that has shown strong interest for direct negotiation and pocketing this property. Hotelier with 99+ hotels worldwide, including resorts in Mauritius & South Africa and a JV in Ghana, it is one of the late comers to Sub Saharan Africa.
Samuel Tafese – Founder and CEO of Sunshine Investment Group – has said his Investment Group is preparing itself for the auction and consequent fierce competition. A well-known businessman that has built a respected business group  with a locally admired benevolent foundation, his group  is involved in ventures from construction to trading and services  to Chocolate Factory. Sunshine already has been active in the hospitality industry by running Marriot Executive Apartment few minutes' drive from Hilton Addis  Hotel and has upcoming projects of Marriot Hotel and Hilton Hawassa Resort under construction.
Zekarias Amsalu is the Founder & MD of London based IBEX Financial Consultancy Ltd that focused on Emerging Markets and New Frontier Investment Advisory on Ethiopia's opportunity. Since July 2016, Zekarias has dedicated 50% of his time to serving as Country Director for Corporate Data Provider Asoko Insight and has brought Asoko to Ethiopia in March 2017 in a rapid speed with his in-depth knowledge of Ethiopia's corporate world and its modus operandi.  Zekarias splits his time between Addis, London and Washington DC and helps Investors looking for bankable projects in Ethiopia.